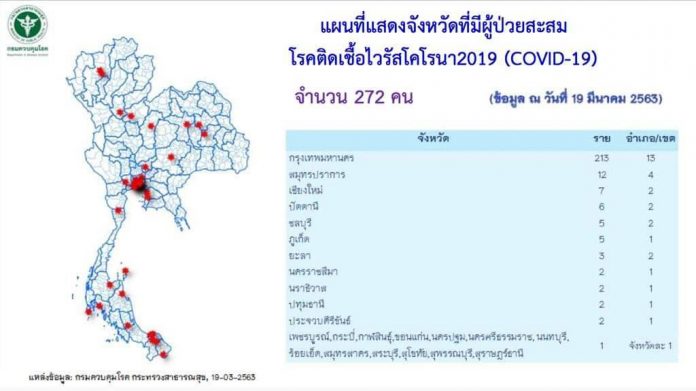 As Thailand works on being more transparent they have shared this map that shows where cases have been found in the country. Eighty percent have been from the Bangkok area, however several have been from elsewhere. Chonburi has had six cases. It is worth noting this has not been updated with the fifty cases found today.
Distribution of #COVID19 cases in Thailand (Data from กรมควบคุมโรค กระทรวงสาธารณสุข as of 19 March 2019)
Some highlights from todays #WHOThailand situation report are:

On the 20th of March 2020, 50 new cases of laboratory-confirmed COVID-19 were announced by the Ministry of Public Health of Thailand (MoPH), bringing the total number of cases in Thailand to 322.
Of the 322 COVID-19 cases reported in Thailand, 43 have recovered, 278 are receiving treatment in healthcare settings and one has died.
To date, approximately 80% of confirmed cases have been in Bangkok. The MoPH is working with the Bangkok Governor's office to identify designated COVID-19 wards in specific hospitals.
To read the full report, please visit
https://www.who.int/thailand/emergencies/novel-coronavirus-2019/situation-reports