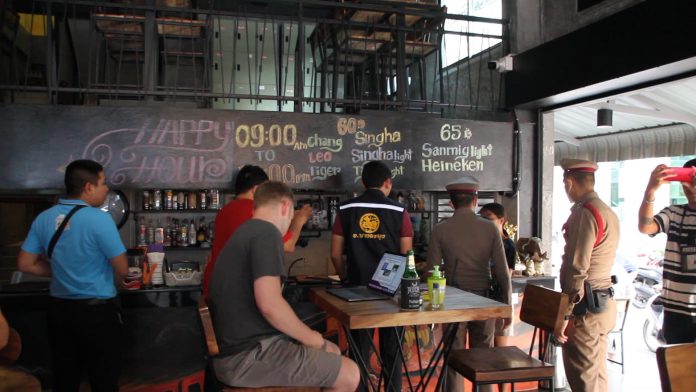 Pattaya-
Only a few days into a minimum two week closure of all entertainment venues in Pattaya City which includes bars, nightclubs, massage shops, gyms, cinemas, gogos and more Pattaya Police have been warning local restaurant owners that flaunting the rules will not be tolerated.
The closure has taken place out of concerns of the Covid-19 Coronavirus and potential spread in places with mass gatherings. However, restaurants were given an exception to the closure. Malls, shops and non entertainment venues may remain open.
There is no lockdown order and people are free to move about, however discouraged from gathering in large groups in an attempt to "socially distance" and not allow a potential spread of the virus which would overwhelm hospitals.
Yesterday, in a video that we posted, popular local music venue The Rock Factory was raided by police and the management on site detained when they were caught with dozens of customers drinking, but not eating. The venue has a food license, like many other bars and pubs in the city and was using this as an exception. The video is below.
Pattaya Police said penalities for violating these rules, which fall under the Disease Control Act, can give up to a year in jail and a 100,000 baht fine.
Police officials told The Pattaya News that these orders come directly from the Banglamung and Chonburi Provincial authorities and there would be no exceptions made, which often happens in a town known for it's party atmosphere and bending the rules. Pattaya relies on tourism and partying for about eighty percent of its yearly revenue and has thousands of bars and nightlife venues.
Restaurants have been told under the orders of the Chonburi Governor that customers must have a minimum space of one meter between groups of patrons, with some even using two meters. Hand sanitizers should be used and plentifully available. Temperature checking of patrons is suggested, but not ordered. Restaurants have also been told that the point of the exception is for people to eat, not to sit, socialize and drink alcohol. Staff must wear masks and regularly clean the venue and enforce high hygiene standards. Many restaurants are using gloves.
There is no booze ban and no plans for one. However, as alcohol causes people to socialize and attracts large groups of people since thousands of venues that people normally use for this are closed, many restaurants are choosing not to sell alcohol at all during this period and only soft drinks and food. Others are selling alcohol, however, requiring that the customer order a meal with the drink and cannot loiter and drink and socialize afterwards.
Most venues have stopped usage of pool tables, darts and other activities. Most venues have also shut off any music and live performers/bands and turned off the televisions to avoid entertainment style activities or crowds of customers. Venues have also stopped quiz nights and parties to stop crowds of people coming in. Restaurant owners have been told to monitor the level of customers in an establishment as well and if it gets too crowded, stop allowing additional folks in. Some restaurants have even turned off their wi-fi to discourage people from sitting for hours and surfing the internet.
Pattaya Police noted they have shut down several restaurants attempting to get around the rules for several weeks and will continue doing so.