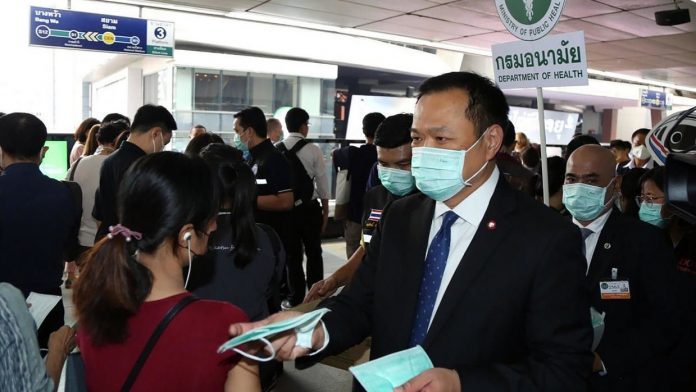 Bangkok-
At 3:45 PM today the Thai Ministry of Public Health (MOPH) and Department of Disease Control gave their daily update on the Covid19-Coronavirus situation and how it was impacting Thailand.
33 new cases of the Covid-19 Coronavirus were announced in total.  These cases are nearly all from the previous cluster cases reported found from tracing and quarantining their contacts, with several more cases found from people coming to Thailand from overseas.
This brings the country to a total of 147 cases.
They also stated that the Prime Minister, Prayut Chan-O-Cha, will be speaking at 6:00PM tonight to address the nation with additional details and information.
Thailand remains still in stage two which is limited local transmission and not stage three, which is widespread person to person transmission, the Deputy Prime Minister, Wissanu Kruagnam confirmed at the meeting. He stated that contact tracing and confirmation on where every case has come from has still taken place and there have been no "mystery" cases at this time. They have quarantined and contact traced all individuals associated with recent clusters found at a boxing stadium and a nightclub in Bangkok and closed those venues for fourteen days. The venues have also been professionally cleaned. He also stated they have been clear and transparent about every case that has been found and there is no need for the public to panic.
The Government has proposed several new measures that will go before the Cabinet in the coming days, to include a proposal of temporarily closing schools and universities, boxing gyms, sport stadiums, cinemas for cleaning. Mr. Kruagnam did not directly address the nightlife issue and actually did not name restaurants, nightclubs or bars in the conference as being proposed to close, contrary to what some other press stated. Venues with over fifty people were specifically discussed in the proposal, but a total closure.
The Pattaya News notes that these are all proposals and still under discussion, although venues can be temporarily closed where suspected cases are found at any time. At this time, there are no closures ordered nationwide.