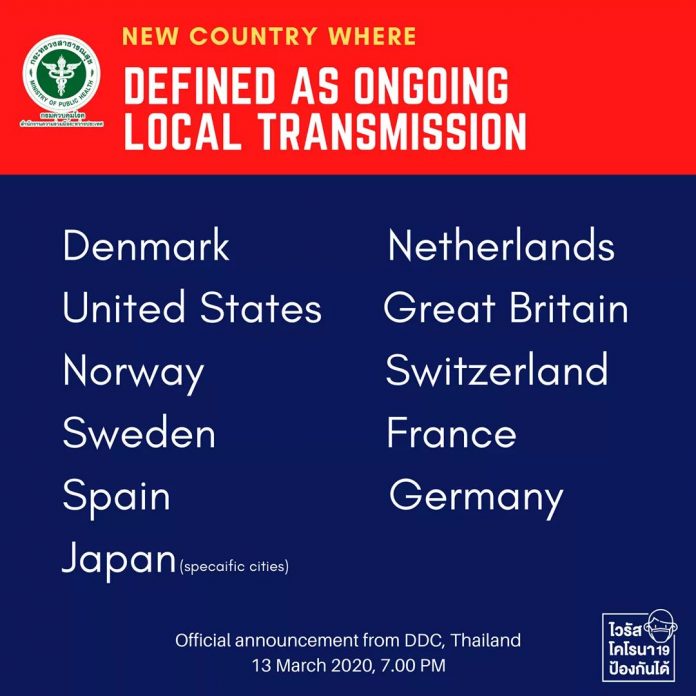 Thailand has added the UK, USA and several other countries to list of countries it regards as being 'high risk' due to the ongoing coronavirus COVID-19 pandemic.
On 13 March, 2020, at 19:00 Hrs, the Public Health Ministry's Department of Disease Control, updated its list of countries with 'ongoing local transmission'.
This list now includes: Japan, France, Spain, Switzerland, Germany, Netherlands, Sweden, Norway, Denmark, the UK and USA.
According to an update posted on the Tourism Authority of Thailand website on 14 March, travellers arriving in Thailand from these countries are expected to "ensure self-monitoring for no less than 14 days".
According to the Department of Disease Control, self-monitoring involves: "Body temperature screening twice a day, every day since arriving in Thailand, for a total of 14 days. If you have fever with respiratory symptoms, report to the local health authority."

Travellers who fail to comply face fines up to 100,000 baht and/or one year in jail.
Source: Reuters and Thaivisa
https://forum.thaivisa.com/topic/1153479-covid-19-thailand-adds-uk-usa-and-others-to-list-of-high-risk-countries-new-%E2%80%9Cself-monitoring%E2%80%9D-measure%C2%A0for-travellers/