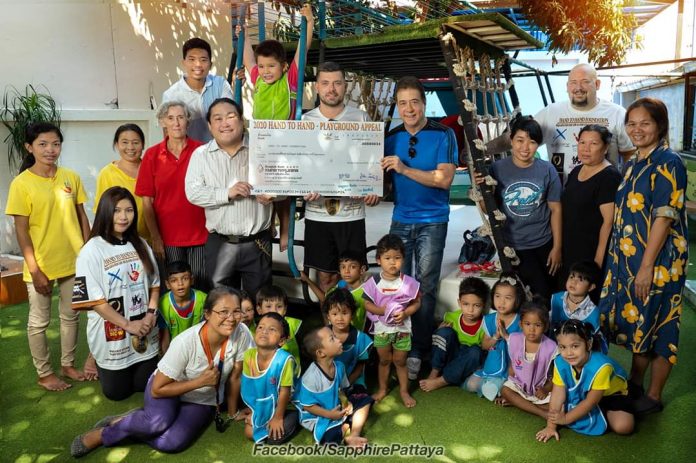 The following is a statement from Sapphire Club in Pattaya:
A huge thank you to everyone who made the Hand to Hand Playground Appeal a success in raising 804,332 baht for the kids.
Not only were enough funds raised for Playground renovations but they are also able to get much needed supplies. The school does more than just teach, they also work to keep the kids together with their families and out of orphanages.
It was wonderful to see the community come together and help this wonderful Pattaya organization. So many to thank sorry if I miss anyone.

Like to first start out with special thanks to Brian Sandve for his generous donation to this project.
Thank you Rocky Posterino for sacrificing his hair and TABOO Club and Champagne Pattaya for sponsoring him to do it. Thanks to Together Barbershop #1 for providing the barbers. Thank you to everyone who made it out to the Charity Night to support the Playground Appeal.
Thank you to Xbungy – Pattaya Bungy Jump for providing the location for the Kids Fun Day event. Thank you to our online friends John C., Chris L, Er Som Jojo, Graeme Horne, Skynet Division and Mr. Anon for you donations.
Thank you to the Fun Day Sponsors Robin Hood Pattaya, The Globe Hotel, Bar & Restaurant, Korando's Bar – Pattaya Thailand, Vice City Soi Buakhao, Liquid Group, Ruby Club Soi 6, Hungry Now, Lady Love – Pattaya, Two Lions Pub & Restaurant, Queen Club Pattaya, Jungle Bar Soi 6 Pattaya, Baku Soi 6 Pattaya – Baku Group, Together Barbershop #1, Nest, Day Drinkers Anonymous, EBM Creative and Thai Bikini Mafia.
Shout out to Mats Andreas Hansen Holtekjølen and Saifon Aunphusa for making the bungy jump for the kids. Thank you Global Advertising Products Co Ltd for producing the shirts
Here is more information about Hand to Hand and what they do in Pattaya:
The reality for many underprivileged people in Pattaya, is a life that is entrapped by poverty and abuse.  Their lives are marked by a lack of adequate care, food, shelter and an uncertainty about the future. Many of these people earn a meagre living as street vendors, garbage collectors, prostitutes or beggars.
Drug & alcohol abuse is common in these communities, making them very dangerous places for children to grow up in.
Those living in the slums are also at constant risk of abuse and exploitation, and a way to break out of this cycle of poverty seems almost impossible. Slum dwellers are often without the benefits of a house registration, which is needed to access healthcare, education and other government support services. In addition, without a birth certificate a child faces an entire lifetime of living as an 'alien' in their own home country.
 Hand to Hand is a Christian organisation that is based in Pattaya, who recognise that human rights apply to all age groups. We seek to protect those who are marginalised regardless of their race, age or religion.
We achieve this by showing them the love of Jesus Christ through prayer and, on a much more practical level, by providing services such as helping them acquire legal documentation and offering food, clothing and education.