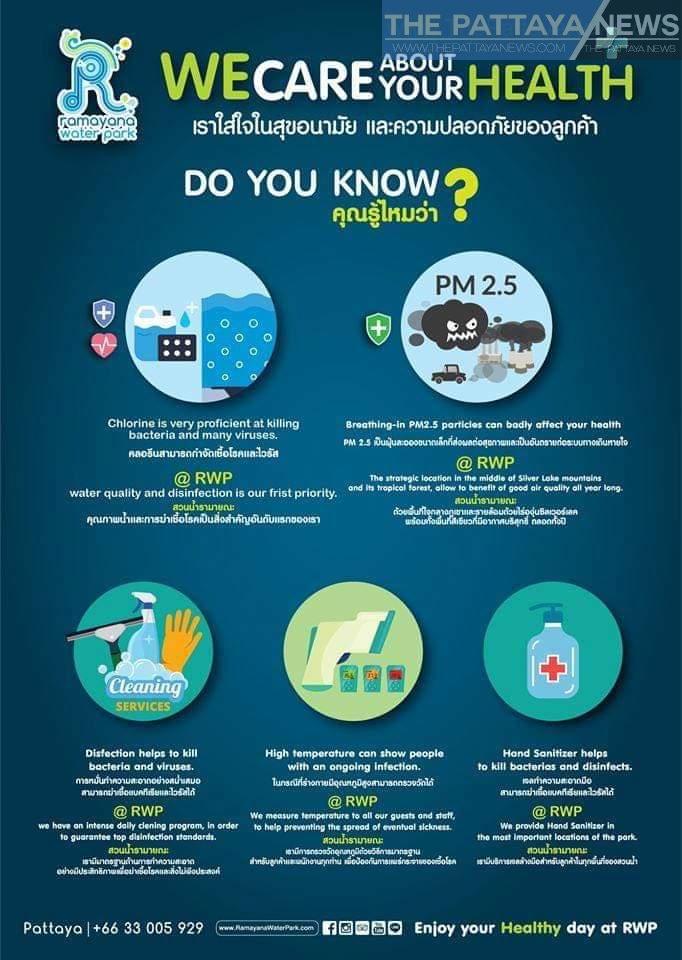 Pattaya
The following is a press release from Ramayana Waterpark and is written by them and their staff.

Our Park is one of the safest places to visit for several reasons:

We check strictly the body temperature of our visitors to control the healthy status of our park.

We use Chlorine in our water by the standard of concentration. MOST important is: Chlorine kills viruses in a short time. It means that using our slides and pools are very safe for you.

We disinfect all public spaces constantly, including toilets, showers,changing rooms…

Ramayana owns a large and wide area which can have a capacity of 7000 people.Here we don't have long queues because we have many attractions to let people choose, and if compared with indoor malls/cinemas/attractions,RWP is a MUCH SAFER choice for your family trip.

The water filtration system of Ramayana is more than 2 million dollars. This is one of the most expensive filtration systems in Thailand. Therefore, the water in our Park is of drinking quality.

RWP periodically sends our water to a specialized laboratory and checks the water for the absence of viruses and bacteria.
The staff of Ramayana Water Park reassures potential customers that during the current situation with the worldwide outbreak of the Covid19 Coronavirus the park remains safe and perfect for the entire family to visit.