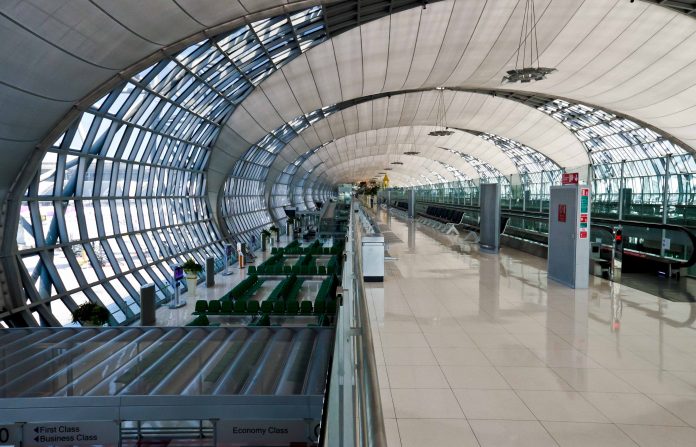 Bangkok-
In actions that Thai authorities say are designed to help prevent the spread of the Covid-19 Coronavirus the Department of Disease Control has announced that they are introducing new mandatory data collection measures for all inbound arrivals, Thai's and Foreigners, that require more personal information and contacts to be given.
The new measures will take effect on Thursday, March 12, 2020.
They include e-mail addresses and a working phone number that Immigration officers will ensure is valid before an individual is allowed to enter the country. Foreigners will be allowed to purchase SIM cards if they do not have one, DDC officials told the press. Foreign tourists can continue using their mobile SIM card for phone packages with roaming service, or buy a new SIM card starting at 49 baht with unlimited internet.
A new Application is also being created by the National Science and Development Agency that can be downloaded from tomorrow, in which all of this information can be entered and GPS technology and alerts can be utilized. A regular paper form is also available.
Personal information will only be kept on file for fourteen days, officials said.
The Department of Economy and Society Minister, Buddhipongse Punnakanta, told the press that they are asking for cooperation from all inbound passengers and refusal to give the required personal information will result in denial to enter the country. He denied criticism that the measures were designed to track people and stated that the tracking features of the new application would only be used in critical situations to help control any potential outbreak.
The difference between this new information and the previous information on arrival forms is that the information will be verified prior to entry to the country and the features of the new app, which include messaging alerts.
Thai Cyber legal experts said that this system is similar to ones already used in Singapore and China and are indeed legal in Thailand, that can use GPS tracking to pinpoint a users location and determine if they had skipped quarantine or not reported properly to authorities.
Officials even said they will use the information to send out message alerts to users, potentially informing them if someone had broken quarantine near them or if there was an emergency.
Original Source: https://www.bangkokpost.com/business/1875989/inbound-arrivals-face-mandatory-measures
With additional material by The Pattaya News team