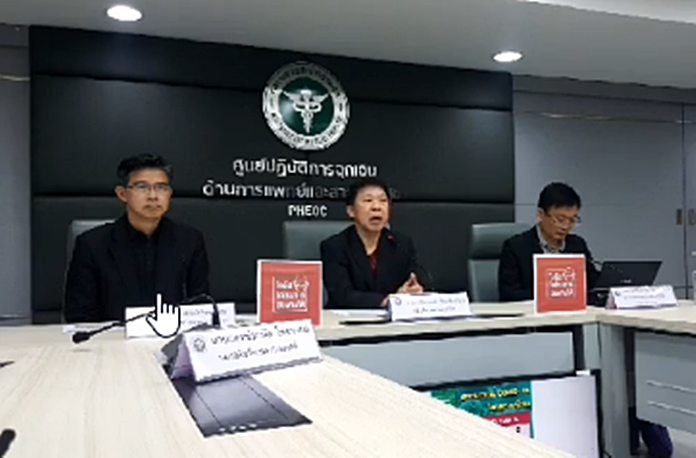 Bangkok-
At the daily press conference from the Thai Ministry of Public Health and the Department of Disease Control Thai Government officials announced six new confirmed cases of the Covid-19 Coronavirus in Thailand, bringing the total in the country to 59 since the outbreak began in late January.
Two of the Thai men work at Suvarnabhumi airport, one in baggage handling and one in Immigration. Both of them, according to officials, have heavy interactions with foreigners.
The Singaporean man owns a business in Bangkok.
The cases are in total:
A 21 year old Thai male who works at Immigration at Suvarnabhumi Airport. He became sick on March 8th.
A 40 year old Thai male who works baggage control at Suvarnabhumi Airport. He became sick March 7th.
A 25 year old Thai man who works at an engineering company that primarily interacts with foreign nationals, however has no history of recent travel.
A 27 year old Thai woman who had just returned from South Korea, one of the "Little Ghosts".
A 40 year old Thai man back from Japan on Feb. 27, he has previous medical issues and had an accident in Japan, breaking his ankle.
A 36 year old Singaporean Male who owns a restaurant business in Bangkok.
Thai officials say the country remains in Stage 2, which is limited local transmission and rumors of being moved to Stage 3 were false. All contacts from the affected individuals are being traced and quarantined.
Written by Adam Judd for the Pattaya News