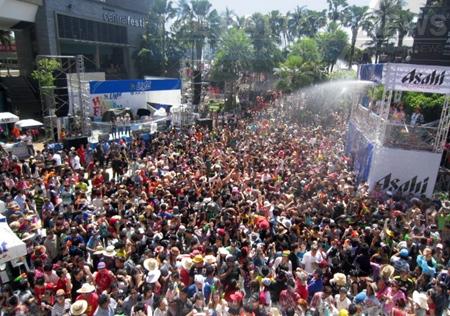 Pattaya
All week long headlines have been dominated by Songkran being cancelled and comments from many expats who don't enjoy the event have been popping up on our social media feeds demanding water police and enforcement. Comments from tourists who come every year for the massive week long party have also been popping up asking if the event is really banned or cancelled.
Well, the truth is the holiday isn't cancelled and water play isn't banned. Only official events, minus the religious ones, have been cancelled.
Pattaya Mayor Sonthaya Khunpluem spoke to the Pattaya News earlier last week when the announcement went out and stated that all official events were cancelled and the city was "urging" private event organizers and businesses to cancel water play themed events. He also asked individuals to refrain from water play .
However, he and his team also admitted that a blanket ban on water play would be unenforceable and it is up to private organizations if they decide to move forward.
The Pattaya News has spoken with several local bar owners whose bars are in areas that normally benefit heavily from Songkran and all have given the same answer…..the event is six weeks away and they will wait and see what things look like then or what direction they get from the city as things can drastically change on the ground in six weeks.
As of press time, large events at local malls and bar parties were still being advertised and most seem to be in wait and see what things look like in a month mode.
One of the primary reasons the official events were cancelled was because it takes several weeks of planning and investment normally for the city to plan the events and rather than spend weeks planning only for the event to be cancelled the decision was made early.
Religious events in Pattaya, such as merit making, temple visits, displays of Buddhist relics, etc will still go as usual the mayor told the press.
The Tourism Authority of Thailand and the Culture Ministry, meanwhile, have said that they are also in wait and see mode from a national level and want to make the decision up to local leaders at this time.
A blanket ban or cancellation of Songkran, the countries biggest holiday, would likely cost when all is said and done well over 30 billion baht.
In Pattaya, Songkran has grown yearly and last year according to the Thai Tourism Authority revenue was up fifteen percent year over year. The wild water festival normally draws at least half a million people, domestic and foreign, to the Pattaya area over the week long event.
Local expats, however, have for the most part shown their distaste for the event that although is one of, if not the, biggest revenue earners for the country yearly also essentially turns the city into a giant week long party disrupting normal life. Some actually leave the country to avoid what is called silly season locally.
The bottom line is nobody really knows what to expect at this point for Songkran. The decision maker could indeed be local Thais as comments in Thai on our Thai news have been mostly positive as many Thai Nationals seem very afraid of the virus and afraid the water could indeed spread it. If we see a strong group think style anti water play stance then there may indeed be limited water play come April 12.
After all, Songkran is the Thai new year and it is the biggest annual holiday for the Thai people. Banning the holiday completely, as some suggest in comments, would be like banning Christmas in the West. It is also still the longest holiday of the year for Thai people with most Thais having five days off or more. Hundreds of thousands of Thais are still expected to go home for the holidays. For many Thai people, like Christmas in the West, it is the only time of the year they get to spend with their family, exchange gifts, make merit and, yes, play water.
As for now, we will all wait and see what happens in six weeks.