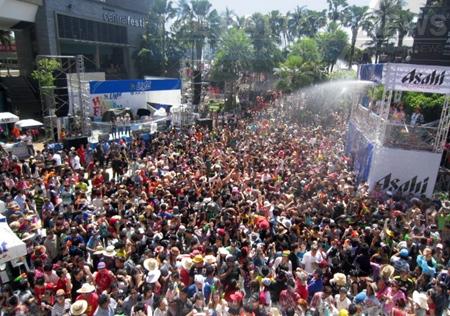 Pattaya
This afternoon Pattaya Mayor Sonthaya Khunpluem confirmed that Pattaya has cancelled most official Songkran activities for this year due to concerns of the outbreak of the Covid19 novel Coronavirus.
This includes the Wan Lai Festival on the 19, which is the single biggest event on the cities yearly calendar, attracting up to a half million tourists domestic and foreign in what is likely Thailand's wildest Songkran party.
All beach road activities, parade, concerts, booths, etc will be cancelled. Additionally the city is reaching out to private organizers, such as Central Festival, and urging them not to have a Songkran water party.
Religious activities, such as making merit to monks, traditional community Songkran meals and visiting sacred relics and traditional Songkran activities will still take place as well as religious ceremonies at locations throughout Pattaya.
The Mayor stated he is urging residents and tourists not to play with water as it may help spread the virus, but it is important to note that a closet ban or law would be unenforceable and there is no way to ban playing with water if people choose to at their own risk.
Songkran is the Thai New Year and the single biggest event on the yearly calendar for Thais. The event last year made over 22 billion nationally and Pattaya has increased yearly roughly fifteen percent year over year in terms of revenue from domestic and national tourists.
The cancellation of the biggest tourism event of the year will only compound the current tourism and business problems, many say.
The Pattaya News notes however that a historic drought, the worst in twenty years according to officials, has also corresponded with this time and that by cancelling all the official water wars this may help retain water.