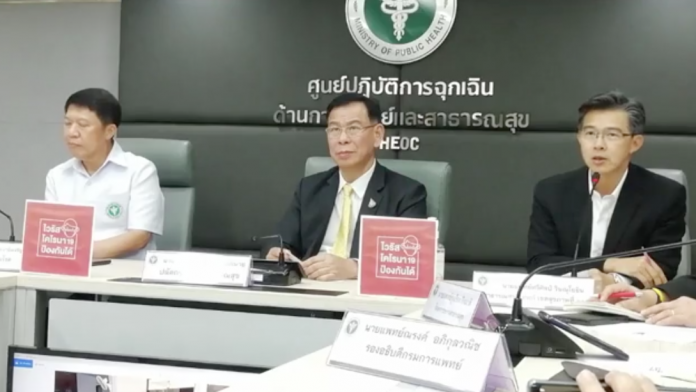 Bangkok-
Four more cases of the novel Coronavirus have been confirmed in Thailand this morning:
The cases are:
1. Thai man, 20, back from Iran on February 27 and went to the hospital on March 2 in Nakhon Si Thammarat
2. Thai man, 42, back from Italy on March 2, went to hospital March 3 and was taken to be treated at a hospital in Chonburi.
3. Chinese man, 22 , back from Iran and being treated at the Bamrasanaradura Infectious Disease Institute. He was found to have a fever while in transit to China at the Suvarnabhumi Airport and never formally entered the country.
4. Italian man, 29, arrived in Thailand March 1st, went to a hospital on March 2, being treated at a hospital in Chonburi
Thailand now has 47 total cases since the outbreak of the Covid-19 Coronavirus, with 31 having recovered and gone home, fifteen currently in the hospital and one fatality, a man who also had medical complications and dengue fever.
The head of Disease Control in Thailand, Suwannachai Wattanayingcharoenchai, head of the Disease Control Department, confirmed all of today's cases and said their contacts are being traced.
There is still no sign of true community spread in Thailand, the Disease Control Department added.