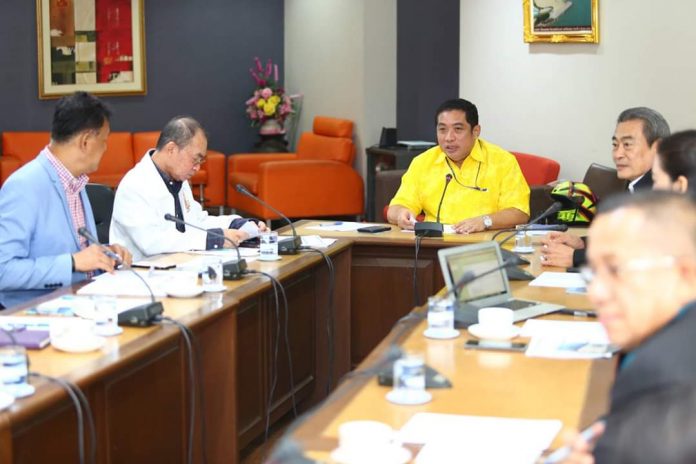 Pattaya
Pattaya City Hall held a meeting this afternoon with city leaders and the Mayor and have announced that due to the worldwide outbreak of the novel Covid-19 Coronavirus they have decided to postpone or cancel nearly every City sponsored event through September of 2020. (Full list below)
They also are speaking with organizers of large private events and discussing potential postponement or cancellations as well.
This all comes as part of the direction released from the National Thailand Government to use preventative measures to discourage mass gatherings of people to stop any potential spread of the Covid19 Coronavirus. Pattaya has no cases, city officials reiterated and the cancellations were all preventative.
A notable exception so far is Songkran, as it needs to be further discussed and is in discussions at a national level as it is the biggest holiday of the year in Thailand.
Additionally, should the virus situation subside and come under control events may resume, city officials added.

March 2020
– Postpone the 17th Pattaya Open Swimming Competition, 7 – 8 March 2020
– Cancellation of Martial Arts Expo, 8 – 10 March 2020
– Postpone Pattaya Marine Run 2020, 14 March 2020
– Cancellation of Saint Patrick's Day Celebration, 17 March 2020
– Postpone the Pattaya Music Festival 20-21 March 2020
– Postpone the Pattaya Trail 2020 project, 29 March 2020
April 2020
– Postpone amateur boxing, King's Cup, 1 – 10 April 2020
– The Thai Heritage Conservation Day Project, 2 – 4 April 2020, is being considered by the organizer. If going to carry out activities, can just organize a cultural exhibition for other public activities, cancel
– Postpone the Pattaya mountain bike competition, 4 – 5 April 2020
– Cancel the procession to promote Buddhism to pay homage to the Buddha's relics on April 13, 2020, which can be opened to the public as usual. For the prosperity of the Thai New Year
– Cancellation of the tradition for the construction of sand pagodas on 17 April 2020
– Traditions of Wan Lai Naklua and Wan Lai Pattaya/Songkran Festival on the 18th and 19th April 2020, awaiting the resolution of a meeting this Friday with high level Government officials.
– Cancellation of the Traditions for the Division of Pattaya City, 20 April 2020
– Postpone the Thailand 2nd windsurfing competition, April 2020.
– Postponement of Pattaya Night Run on 25 April 2020
May 2020
– The ultimate international sailing competition, 1 – 6 May 2020, is under the coordination of the organizers and they will make a final decision.
– Cancellation of Taekwondo Pattaya Open, 2 – 3 May 2020
– Cancellation of a walk-run event for Visakha Bucha, observing the precepts of 5, relenting on vices on 6 May 2020
– Postponed Pattaya Seafood Festival, 8 – 10 May 2020
– Show of mixing skills in Pattaya, 15-16 May 2020, in the process of coordinating with the organizers
– Postpone the Bikini Run on May 16, 2020.
– Postpone the Futsal Pattaya Cup competition, 22-22 May 2020
During May 2020, postponing the Pattaya Beach Games.
June 2020
– Postpone the Pattaya Cup football match from 13 – 28 June 2020
– World Yoga Day, 21 June 2020. If arranged on the beach area, cancel. But can be arranged at the San Ken area Central Festival Pattaya Beach.
– Postpone the Pattaya Fireworks and music Festival 27 – 29 June 2020
July 2020
– Exhibitions, trade fairs, and tourist service competitions, 3 – 5 July 2020, are in coordination with the organizers.
– Postpone the Pattaya Marathon on 19 July 2020
– Postpone Thailand Open Karate-do Championshilp 2020, 22 – 26 July 2020
August 2020
– Postponed Sepak Takraw Pattaya Cup competition, 20 – 23 August 2020
September 2020
– Postpone the walk-run competition on the beach on 13 September 2020