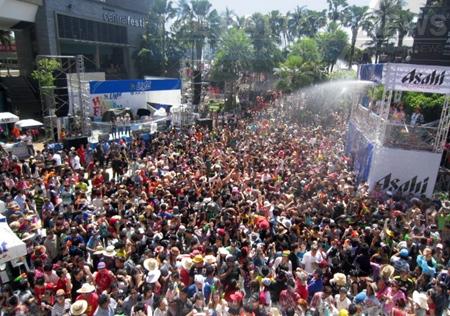 Bangkok-
As the world continues to deal with the outbreak of the Covid-19 Coronavirus worldwide and many events continue to be cancelled in Pattaya such as The LPGA tour, The St Patrick's Day Parade, The Open Swimming Competition, the Troppixx Music Festival and the Marine Run, attention has begun to turn on social media to the biggest holiday of the year in Thailand-Songkran, The Water Festival, also known as the Thai New Year.
Songkran traditionally, along with Christmas and New Years week, is the biggest and longest domestic holiday of the year in Thailand and the largest holiday tourism attraction in the country drawing hundreds of thousands of domestic and foreign tourists for what is billed as the worlds largest water fight.
In Pattaya, the event typically lasts a full week, with the final day, the 19th of April, drawing up to half a million people in Pattaya, many domestic tourists, in one of the world's biggest and most unique parties.
At a conference today, Thai Tourism Authority Governor Yuthasak Supasorn said that the festival will be held as usual and the TAT events are likely to go forward as the government has not issued an order to cancel Songkran. He did, however, say that there will be adjustments made and both the private sector and the Government are currently organizing and deciding what may take place. It is highly possible that the event will be heavily toned down, with less water play and parties and focus on a traditional family style Songkran.
This being said, a spokesman for the Ministry of Tourism stated that it is possible that the event could be cancelled altogether and is being discussed, although many private sector events have already been cancelled.
Major private sector events like the S20 festival in Bangkok which draws well over a hundred thousand people in a three day party have as of press time stated they are proceeding, albeit keeping an eye on current events.
The Pattaya News notes that cancelling the event would be yet another major hit for tourism and the hundreds of thousands who traditionally celebrate the event in Pattaya, although the event is detested by many local foreign expats who would likely rejoice in any decisions to cancel or restrict the event that turns the town into what some locals call "Silly Season" for a week and traditionally brings many tourists ready to party to the city.