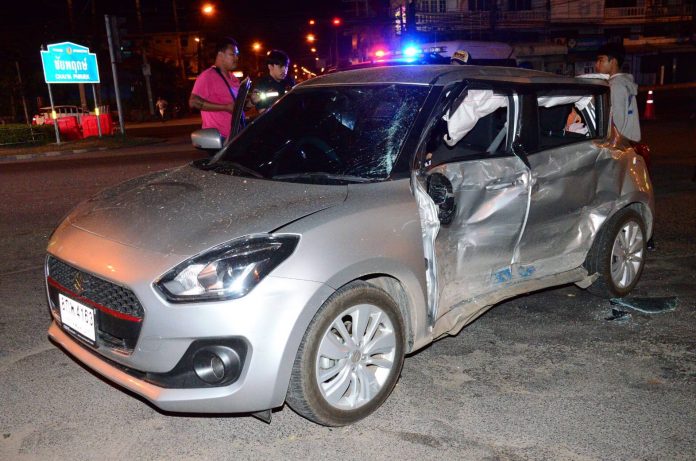 Pattaya-
Four people have sustained injuries after a sedan collided with a minivan in Pattaya this past weekend.
Captain Thanongsak Inphadung of the Pattaya City Police was notified of the accident at 4:00AM early Saturday morning at Chaiyapruek Intersection.
Police, emergency responders and The Pattaya News arrived at the scene to find a damaged minivan on the road.
The driver, 28 year old Mr. Nono Homruen was not injured and was calmly waiting for police.
A damaged sedan was found nearby. The driver, 22 year old Ms. Napaphon Panit and her three passengers had sustained various injuries. They were taken to a local hospital.
Ms. Napaphon told police that she had followed the GPS navigation and that she had never used this road. She said the GPS gave her bad information on a turn which caused her to collide with the minivan.
The minivan driver told police that when he was passing the intersection on the green light, the sedan had immediately crossed in front of his minivan.
However, Pattaya police are continuing their investigation and checking CCTV nearby.