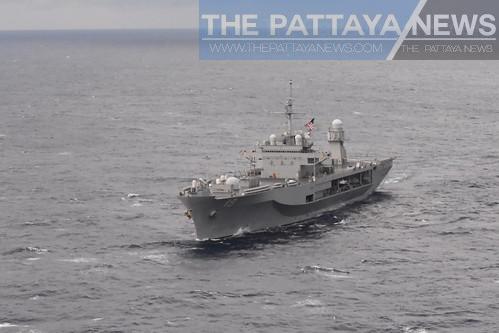 The following is a press release from us.navy.mil and the US Military. The content within is their own.
LAEM CHABANG, Thailand – U.S. 7th Fleet flagship USS Blue Ridge (LCC 19), along with the embarked 7th Fleet staff, arrived in Laem Chabang, Feb. 23, for a scheduled port visit as part of their continuing mission of relationship-building in the Indo-Pacific region.
The visit gives the combined Blue Ridge/7th Fleet team a chance to continue its standard of giving back to Thai citizens, with community relations and 7th Fleet Band hosting performances in the community. In addition, 7th Fleet leadership will take part in a series of staff talks for professional exchanges with their Thai counterparts.
Blue Ridge's last visit to Thailand was in April 2019. Capt. Craig Sicola, Blue Ridge's commanding officer says this visit underscores U.S. Navy's continued commitment to Thailand.
"It's been nearly a year since our last visit, and while that may seem like a short amount of time for those who were here last April, the landscape in the region is ever changing, so it's important to show that we are still here, still relevant and committed to the people of Thailand," said Sicola.
Part of the foundation of commitment comes with opportunities for Blue Ridge and 7th Fleet personnel to give back to the community. A portion of Blue Ridge and 7th Fleet Sailors will support community relations (COMREL) events. Sailors will also have an opportunity to experience Thai culture through numerous tours offered by the ship's Morale, Welfare and Recreation (MWR) program such as elephant riding and visits to cultural sites.
"Thailand offers so much for our Sailors to learn about a new culture and enrich themselves by being an active participant in the community," said Lt. James Hicks, Blue Ridge's chaplain. "We're very humbled for the opportunity to immerse ourselves into the community and in the process give back something in exchange."
The COMREL opportunities will allow Sailors to contribute to Thailand youths through a two separate events hosted by local charitable organizations in the area, where Sailors will dedicate time interacting with children through games and fun-filled activities.
As 7th Fleet's flagship, Blue Ridge, provides a mobile command and control capability throughout the Indo-Pacific. Blue Ridge is commanded by Capt. Craig Sicola and serves under Expeditionary Strike Group 7/Task Force 76, the Navy's only forward-deployed amphibious force.