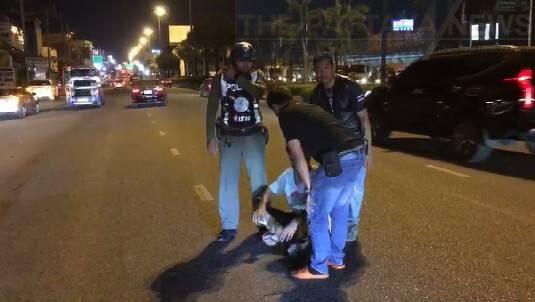 Pattaya-
At 9:30 PM last evening, February 15, in Pattaya a 39 year old Thai man was rescued by local police officers led by Police Lt. Pichai Reuangsuk after sitting in the middle of heavy traffic on Sukhimvit Road.
Several other motorists called police for assistance as the man would not move from the middle of the road.
The man, whose name was withheld by the Pattaya News, told Pattaya Police he was upset after his girlfriend broke up with him and decided to sit in the middle of traffic on the local highway.
He attempted to escape the police several times and run back into traffic, being held back by several police and nearby good Samaritans.
He was taken to a local medical center for assistance and support pending the incident.