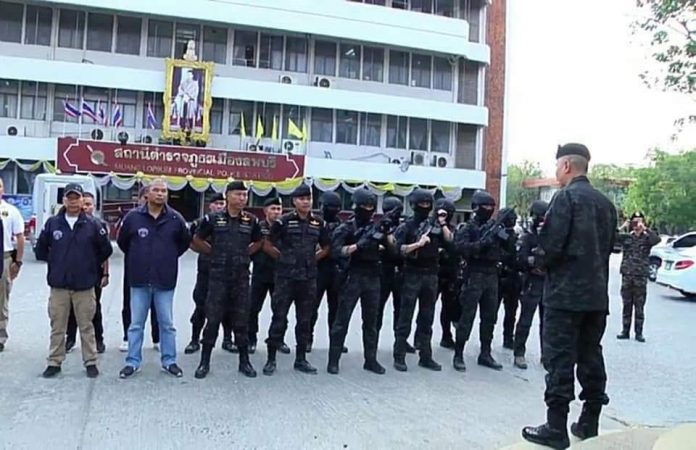 Lopburi-

The Crime Suppression Division (CSD) is running checks on victims of a deadly attack at a gold shop after becoming suspicious that the lone gunman's motive was not theft.
A police source said the CSD is examining records of the victims of the shooting at Aurora gold shop in Robinson shopping mall in Lop Buri's Muang district because the assailant snatched such a small amount of gold.
Three people including a toddler were killed and four others wounded when the gunman, wearing a woollen balaclava, black shirt and camouflage trousers, fired at shop staff and customers as he approached the counter.
The gunman was armed with a handgun fitted with a long silencer. He grabbed three trays of gold necklaces worth about 500,000 baht.
The shooting occurred at 8:44pm on Thursday shortly before the shopping mall, located on Phahon Yothin Highway in tambon Kok Ko, closed for the night.
One shop assistant was killed in the shooting while a two-year-old boy was shot in the head as he walked past the shop with his mother. The boy succumbed to his injuries at a local hospital.
As the robber left, he shot a security guard dead before fleeing on a red-white Yamaha Fino motorcycle without a licence plate.
Two of the wounded victims were a husband and wife who were selecting gold jewellery with their daughter when the gunmen opened fire. The couple, prominent business people in the province, underwent surgery and were declared out of danger while their daughter escaped unharmed. They were seen on a viral video of the shooting that was shared widely being shot.
The bounty for the gunman rose to 600,000 baht yesterday evening as the manhunt intensified. The reward was announced yesterday by national police chief Pol Gen Chakthip Chaijinda and was swelled by a donation from the private sector.
Pol Lt Gen Amphol Buarapporn, commissioner of Provincial Police Region 1, said the attacker used a 9mm pistol. Security camera footage showed he arrived at the store alone.
Senior officers were handling the case and armed police commandos were being deployed in the hunt, he said.
Government spokeswoman Narumon Pinyosinwat said Prime Minister Prayut Chan-o-cha has extended his condolences to the victims' families. The premier also condemned the robber for killing a young boy, saying such an action was deplorable, Ms Narumon said.
Source: https://www.bangkokpost.com/thailand/general/1833234/hunt-on-for-gold-shop-killer