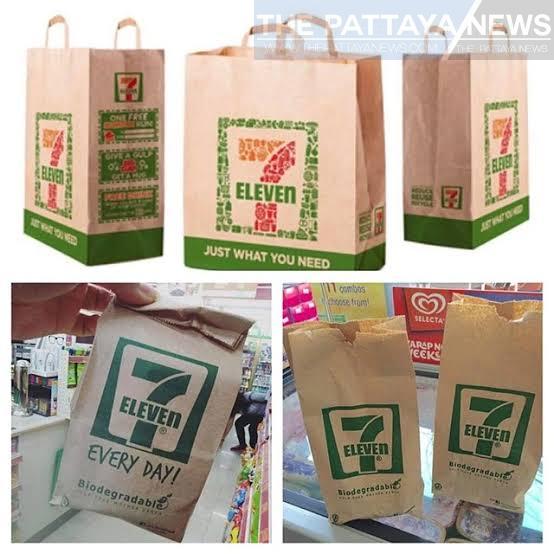 Pattaya-
CP All, who runs the 7-11 chain in Thailand, announced today that after only six days into stopping providing plastic bags at their thousands of locations they are going to provide for free paper bags in tourist areas, including Pattaya.
Although the plastic bag "ban" in which over seventy retailers signed an agreement to stop providing plastic bags on January 1st of this year started with lots of success stories and pictures going viral on social media of people bringing humorous containers to carry their purchases, now that nearly a week has set in complaints and upset customers are increasing.
Store clerks interviewed in the Pattaya area by the Pattaya News have said they spend most of their day arguing with tourists over not being able to provide a bag. Although local residents and expats are confirming to the policy and bringing reusable bags the thousands of tourists in the area, especially from countries like Russia and China who do not speak English or Thai, simply do not understand or like the policy.
Additionally, staff said that it is impractical to expect tourists that are out on the beach all day or clubbing in nightlife hotspots all night to carry a reusable bags with them. Staff told the Pattaya News that sales are way down with many customers leaving baskets of groceries at the front of the stores when they find out no bags are available leaving more work for the staff to put the items back.
It seems corporate management is listening as the paper bags are on the way, at least for now only for tourist locations like Pattaya and Phuket. Some companies, like Big C, still have plastic but a customer must pay an additional fee for them.
Meanwhile, environmental activists are already crying foul of the decision to offer paper, saying that in many ways it is worse for the environment and encourages cutting down more trees and forests. Environmental groups would prefer that the stores stand firm on their policy and require customers to bring reusable bags and change habits.
Written by Adam Judd, Pattaya News. Photo 7-11.