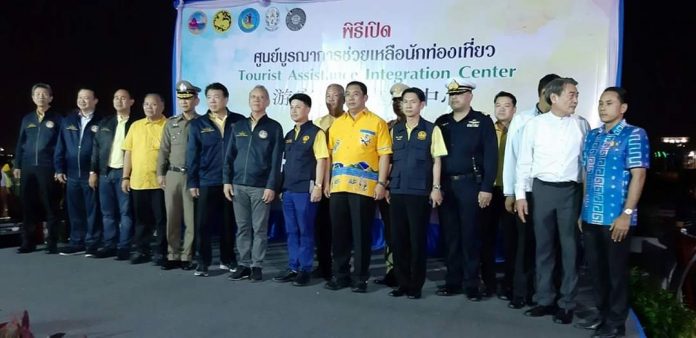 Pattaya-
The Thailand Tourism and Sports Minister, Pipat Ratchakitprakan, arrived at the Pattaya City Hall today and was welcomed by the Chonburi Governor Pakkathorn Teanchai and the Pattaya City Mayor Sonthaya Khunpluem.
The Minister, members of his cabinet for Tourism, Pattaya City and regional leaders, members of local tourism and business councils and community leaders attended a meeting in a town hall style in which local leaders vented their frustration with what they see as a vast difference in the official statistics for tourism and the reality on the ground in Pattaya.
According to the official Ministry of Tourism statistics office, there are more than 18 million tourists (10 million foreigners and 8 million Thais) visiting Pattaya this year which has generated a record number of baht for the economy.

Pattaya tourism has increased 10 percent year over year according to the Tourism Ministry and the official tourism statistics office.
Meanwhile, tourism operators in Pattaya and the local tourism board officials vehemently disagree. They told the tourism minister in reality according to local business leaders and tourism associations more than 50 percent of tourists have decreased which is the lowest in many years.
Local tourism leaders stated that the number of tourists could potentially be correct, however, the vast majority do not visit many independent businesses and come on preset tour groups or have limited spending power. Some of the individuals counted as tourists to Pattaya literally spend an hour or two on a morning bus tour seeing the beach, spending nothing, and then leaving according to complaints from local business owners.
They believed that the main factor is the strength of the baht which is still too high. Nearby countries like Vietnam, Laos, Cambodia and the Philippines are becoming significant regional competitors.
Also, there are more than 2,700 hotels in Pattaya but only about 300 hotels have legal licenses which is hurting the image of Pattaya and tourism. Local tourism board officials would like to see a renewed campaign on proper hotel licenses.
These issues are being considered by the cabinet and tourism ministry for further solutions. The tourism minister listened to the local complaints and their feedback and said he would take the matters into consideration. Unfortunately, no concrete plans or counterpoints to local leaders complaints were brought up at the meeting.
After the meeting, the tourism minister and his cabinet went to open the brand new Tourist Safety and information center located at Bali Hai Pier in a joint ceremony with Pattaya City officials. The center is designed to be a one stop bilingual location for all tourists to get assistance and information.