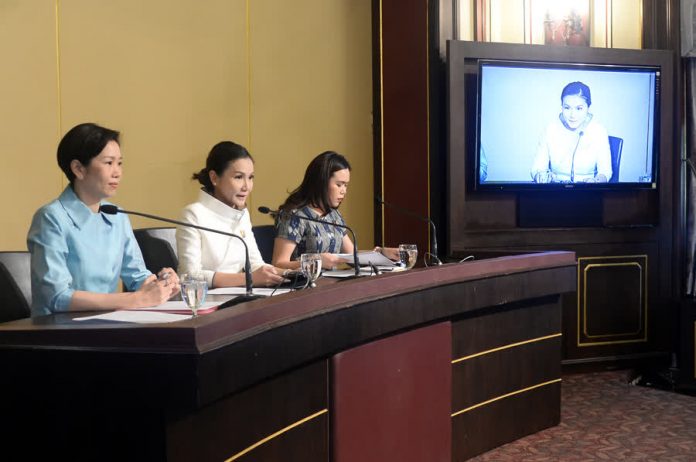 BANGKOK (NNT) – A meeting of cabinet ministers has acknowledged that New Year's gifts are intended to increase the Thai people's happiness, as proposed by the Ministry of Defense and the Ministry of Culture.
The Government Spokeswoman, Prof. Dr. Narumon Pinyosinwat, said today that the Defense Ministry is to implement additional safety measures to protect lives and property in risk areas.
The military is to offer car repairs, medical treatment and massage services to tourists and commuters in 600 locations from December 27, 2019, to January 6, 2020. The ministry is to set up stalls to sell consumer products at low prices and open military attractions, including the Sufficiency Economy Learning Center, to the general public.
The Ministry of Culture's New Year presents focus on the Thai way of life. They include a chanting ceremony on New Year's Eve nationwide, and free bus trips to important Buddhist temples and 10 royal temples in Bangkok. People can also visit historic sites free of charge.
At the cabinet meeting, the Deputy Prime Minister, Gen. Prawit Wongsuwan, reported on security measures to be implemented during the New Year festival. They include "Leaving Home with the Police" campaign, and traffic measures to deal with drink driving, riding motorcycles without wearing asafety helmet, and speeding.
The cabinet also approved the Ministry of Finance's proposal to transfer the remaining budget of 262 million baht from the g-Wallet 1 balance to the g-Wallet 2 balance under the government's Chim, Shop, Chai (Taste, Shop, Use) economic stimulus campaign. Prof. Dr. Narumon said the Ministry of Finance has received a report that a total of 11.73 billion baht out of 12 billion was spent from the g-Wallet 1 balance. The remaining budget of 262 million baht will be transferred to the second g-Wallet because more people are using it. As of today, more than 13 billion baht has been spent in this project.