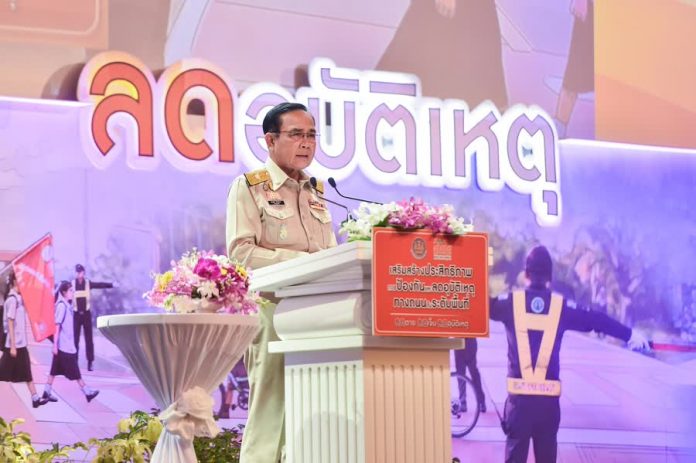 BANGKOK (NNT) – Prime Minister and Defense Minister, Gen. Prayut Chan-o-cha, has presided over the launch of a project to enhance efficiency in the reduction and prevention of road accidents. The Prime Minister has encouraged all sides to follow the guidelines of the Thailand Declaration to minimize losses.
The Interior Minister, Gen. Anupong Paojinda, said today the project designed to drive the road accident prevention operation was initiated to promote road safety according to the Moscow Declaration, which proclaimed the Decade of Action for Road Safety from 2011 to 2020.
The Prime Minister delivered a policy to promote road safety, which encourages local agencies to work together to help reduce the number of road accidents. The policy aims to reduce the number of road fatalities to no more than 21 victims out of every 100,000 people by next year. The Prime Minister said efforts have to be made continuously, not just during holidays, because he wants to see Thai people smile and make them happy. As a New Year's Gift to the people of Thailand, the Prime Minister said he wanted the country's road fatality rate to drop to 0% quickly. He said laws must be strictly enforced, while the people have to respect the law. He warned motorists against drink-driving while calling on the general public to follow the theme of the Thailand Declaration, which is "Love Oneself, Love Your Family and Love Others".
The Prime Minister later observed an exhibition on road safety at the event.