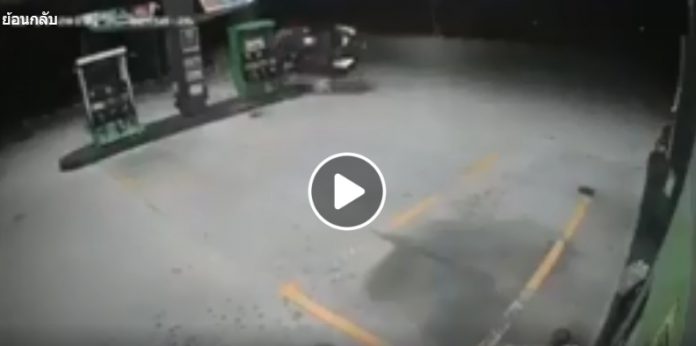 Screen capture/VIDEO: Sri Racha News
Sri Racha –
An out of control car crashed into a gas station in Sri Racha yesterday evening according to Thai media.
Sri Racha News, a Thai language media source, reports that the incident happened yesterday evening at a gas station in Bowin.
The CCTV footage shows that the sedan had lost total control before colliding with a gas pump. Speed seemed to be a factor in the incident
Watch the video here:
https://www.facebook.com/176481829769501/posts/586311148786565/
Gas station attendants helped the driver out from the vehicle which had flipped onto its side during the incident. Luckily, there was no oil leak at the gas station or injuries from either the driver or bystanders.
There was no statement from the Thai media on if Sri Racha police detained or questioned the driver over the incident.
SOURCE: Sri Racha News/ Story by The Pattaya News