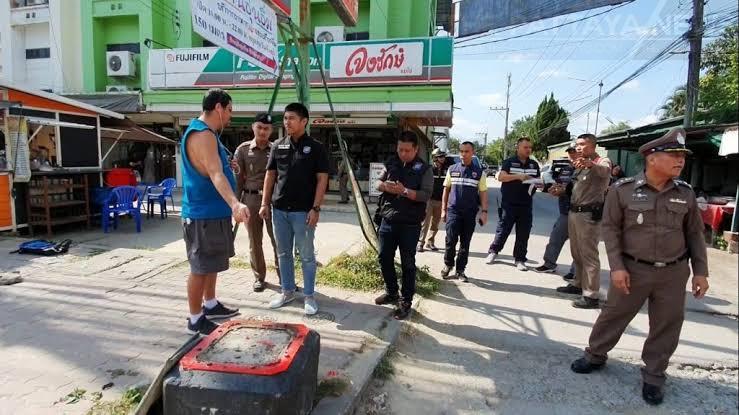 Problem farang in Chiang Mai: American's in custody and will be deported
Picture: CM108
People in Chiang Mai can breathe a sigh of relief after an out-of-control American responsible for a string of incidents in the northern Thai city was arrested for a second time.
James F., 46 – who had been calling himself Daniel Park on Facebook – is now in custody according to Chiang Mai Police and Immigration.
He had damaged traders' property in the Ruamchok area, been filmed calling Thais "gooks" and reportedly even attacked a Ronald McDonald statue.
But when he pushed over a mailbox this weekend it proved to be the final straw for the authorities.
Picture: CM108
Pol Col Natthaphon Kaewkamnert of the Mae Jo police led a team to arrest the American man.
They had been to his room before as they knew his identity as he had been released earlier ahead of a court date.
A person claiming to be the man had told a Thaivisa reporter that he had been evicted and was due in court on Boxing Day. He said he would welcome deportation before he threatened Thaivisa reporters.
He was found to be a US citizen on a three month tourist visa. He blamed being very drunk on the mailbox attack. He claimed that the US government was tracking his every movement along with other various conspiracy theories to explain his various problems.
A post office official said that the mailbox was being replaced with a new one. Niyom told CM 108 that 13,000 baht damage had been caused but that all the mail was undamaged.
Picture: CM108
Police confirmed to the media that this was the same man responsible for all the trouble. He already faces a court date but further charges will be added to the rap sheet.
The man will remain in custody and when everything is settled he will be deported, said police.
Source: CM108 and Thaivisa