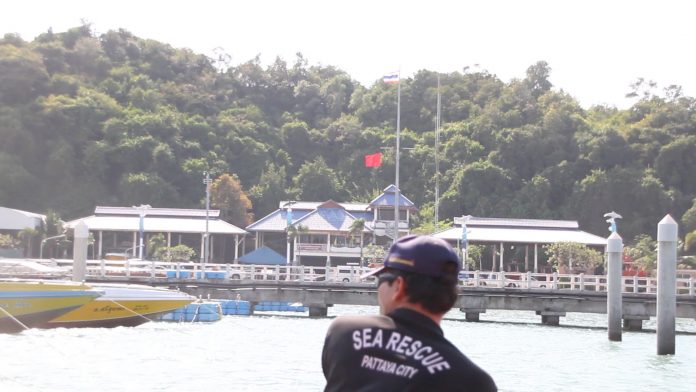 Pattaya-
The Pattaya Marine Authority and Sea Rescue service has made it crystal clear today to small boats…stay out of the water and take time off.
The announcement follows the red danger flag being lowered to half mast at the headquarters of the Sea Rescue division near Bali Hai Pier.
In the past few days since a cold spell accompanied by high, steady wind has begun at least five separate boats and various people, including tourists, have been rescued all up and down the East coast of Thailand.
Some, such as a group of four Russians who took kayaks out into the open ocean, spent nearly twenty four hours alone in the water in dangerous conditions before being rescued.
In another case a fishing boat capsized and five sailors were rescued after floating in the middle of the ocean near Sattahip for fifteen hours. Some managed to stay afloat with no life vest or support. Tragically, the captain of that boat remains missing.
Yesterday, floating luxury residence ship The World sought residence in Pattaya Bay due to high waves and wind.
The Pattaya News reported on all these incidents earlier this week.
Sea Rescue boats have been patrolling the harbor today and stopping small boats from leaving into the Gulf, telling them it is for their own safety.
The current cold weather and wind is expected to last until at least Tuesday of next week.