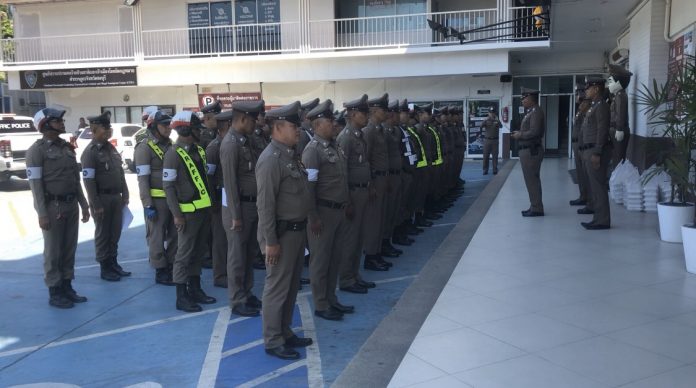 Pattaya-
This afternoon Pattaya Police, led by Police Col. Thanaphong Pho Thirat, the director of the Pattaya City Police Station, held a meeting with dozens of traffic police to set the course for the next few weeks as Pattaya officially enters an expected busy high season.
The city is in the middle of an expansive road construction project as part of the Eastern Economic Corridor work, installing new drainage systems, improving roads, moving wires underground and additional work to help alleviate many headaches the city has had for years with flooding and cable management.
Due to the amount of ongoing construction, along with a significant increase in tourists specifically from China that use large tour busses, the traffic at times has become nearly unbearable in Central Pattaya.
The traffic police were instructed that they will be significantly increasing presence helping direct traffic and alleviate some of the most crowded areas, especially on holidays and weekends throughout high season.
The police were also instructed on treating tourists with respect and a smile and ensuring that they remember they are often the face of the city to the tens of thousands of tourists that visit Pattaya.
Plans for traffic rerouting and utilizing logical planning for when construction work takes place are also underway over the next few busy months.
The overall construction work is expected to last until nearly the middle of next year.