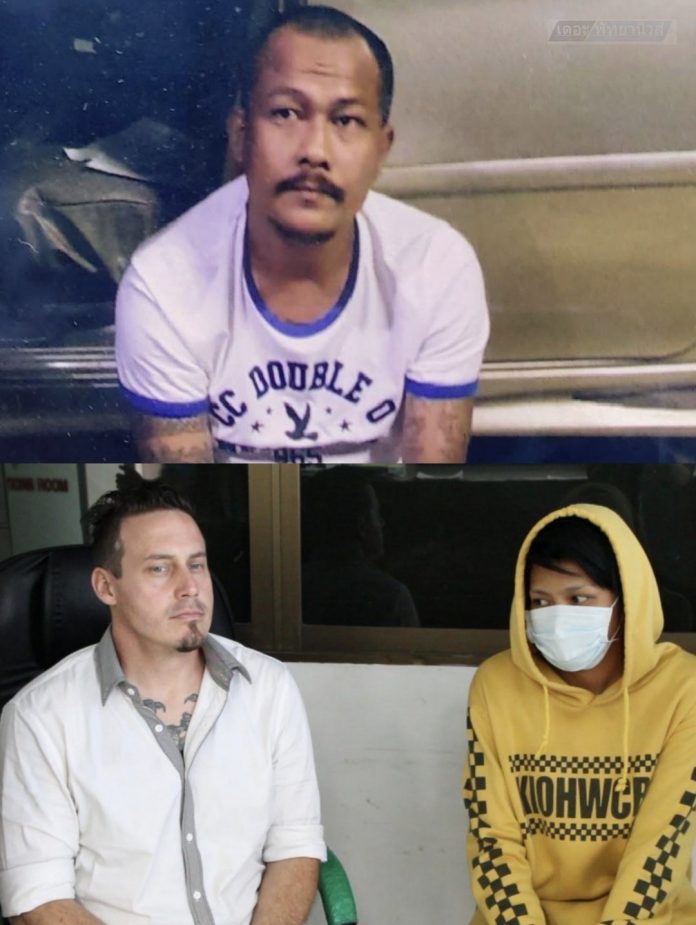 Pattaya-
Hours after a daring daytime escape Monday afternoon from holding cells at the Pattaya Provincial court three wanted prisoners described as armed and highly dangerous remain on the loose.
The three prisoners, who were named to the press as Mr. Bart Allen Helmus, 39, an American citizen, his wife Sirinapha Wisetrit, 31 and a 41-year-old Thai man, Mr, Noi Ton Nintet escaped the Pattaya Provincial court around 3:30 PM this afternoon. CCTV at the scene shows a chaotic scene, with the prisoners stabbing one guard and threatening others with a firearm. It is unclear at the time how the prisoners obtained the weapons and the incident is under investigation.
After stabbing one police officer, Capt. Tanamet Potipan, the trio allegedly took his prison keys and let themselves out of the prison to where a waiting bronze Izuzu D-Max pickup truck was waiting for them, with no signs of registration or license.
The injured officer is currently in surgery at a local hospital and in serious condition.
Pattaya and Chonburi police have set up checkpoints throughout the greater Chonburi area and also notified the US Embassy and Immigration border checkpoints within reach of Pattaya. They believe that the trio is still in the area and currently lying low, waiting for the opportunity to flee.
Checkpoints will remain in place overnight and police are reviewing CCTV of their escape route and conducting searches of locations where it is possible the trio fled to.
Officials warned that the suspects are considered armed and very dangerous and the public should not approach them but rather immediately call the police if they are spotted.
Our previous article about this incident is located here:
Three dangerous prisoners including American escape from Pattaya Provincial Court, one police officer stabbed