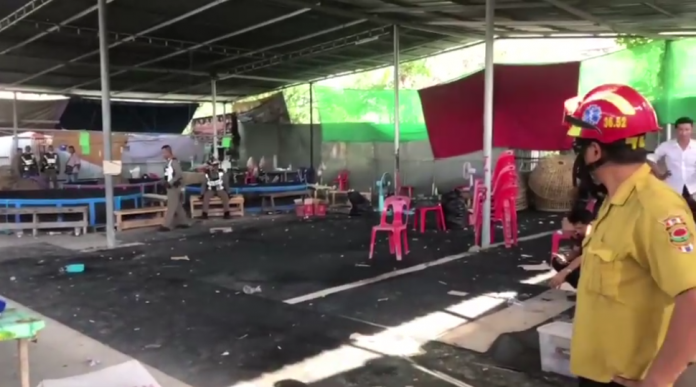 Local Police are hunting for suspects after one man is dead and one injured in a shooting at a chicken fight in Chonburi
Chonburi –
Chonburi Police are hunting for a prime suspect as one person has died and one person was injured from gunshots after a chicken fight ended in tragedy near Pattaya.
Police were notified of the incident at 2:45PM yesterday at a chicken fight arena in the Chonburi area.
Police and emergency responders arrived at the scene to find 34 year old Mr Wirat Srisawat who had sustained serious injuries from a gunshot. He was pronounced dead at the scene.
Another man, 33 year old Adisak Sanyata, who had sustained serious injuries from a gunshot wound was rushed to a local hospital.
Witnesses said the suspect had fired gunshots at two other men after a chicken fight had ended before he sped away on his vehicle.
This afternoon police said they have already identified the suspect. An arrest warrant is to be issued for him. They have urged him and his relatives to turn himself in and surrender to local police. They have not publically named the man at this time.
The suspect was disappointed after his chicken didn't win the fight, according to witnesses and lost his temper, taking out a pistol and shooting the men who allegedly owned the winning chicken.
Police stated that betting, against Thai law, was also taking place at the event and is being investigated as well.
Pictures courtesy 77kaoded. Article written and translated by The Pattaya News from Thai.