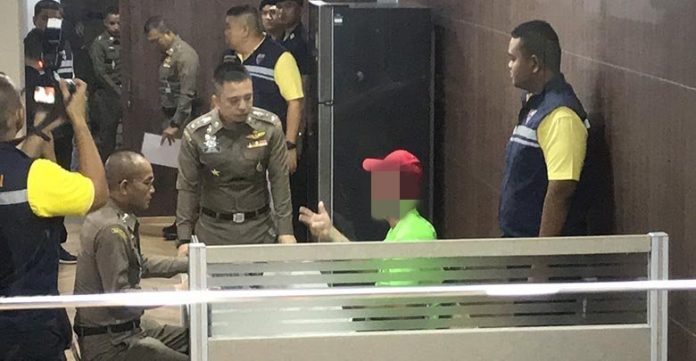 A German national identified only as Richard has been charged with concealing, moving and damaging a corpse as well as being on overstay in Thailand.
The case relates to the discovery of Margund, 77, a German woman who was found in a wooden crate dumped in the Bang Prong canal behind the Saen Suk municipal offices in Chonburi in January.
Our original article on this is here:
https://thepattayanews.com/2019/10/22/german-man-on-overstay-arrested-in-pattaya-area-in-connection-with-german-woman-found-dead-in-canal/
At a press conference headed by immigration chief Lt-Gen Sompong Chingduang along with Saen Suk police yesterday more details were given in the case. Thai language media reported that Margund had travelled to Thailand with Richard in June of 2017.
Richard lived in a rented house in Saen Suk district with his Thai wife Supranee and the elderly lady. They lived off tens of thousands of baht transferred from Germany, some of which was her pension, said the Thai wife. In January she said that the German lady fell down in the bathroom. They put her to bed but she subsequently died. She said that Richard wrapped her in a cloth, put her in a wooden crate and took her in a motorcycle with a sidecar attachment to the canal where he dumped her. Her body was soon found.
Requests were made over the missing old lady and it was discovered that Ricard was wanted on 17 counts of credit card fraud amounting to 6,000 Euros in Germany. This finally led to the arrest of the German man and the charges related to the concealment and damage to a corpse and that of overstay in Thailand.
Mr. Richard denies all the charges, including the overstay.
Source: Thai Visa, Naew Na