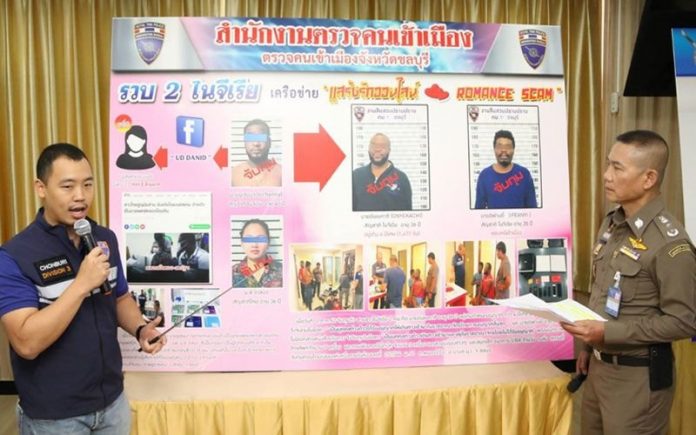 Pattaya-
Thailand's immigration police have announced the arrest of two Nigerian romance scammers.
They were part of a gang of scammers based in Pattaya that were involved in swindling 2 million baht over two years according to Immigration officials.
The latest arrests earlier this month were part of a continuing investigation by Chonburi immigration, Nong Prue police, and other agencies.
Immigration chief Lt-Gen Sompong "Big Oud" Chingduang was on hand with some vinyl boards to help present the evidence yesterday.
Back in July, a 40 year old Nigerian and his 36-year-old Thai wife were arrested. He was pretending to be an American doctor and she was going out to get the money swindled from the lonely at ATMs.
Bankbooks and ATM cards and other items were taken into evidence and the pair were charged with fraud and the Nigerian was additionally charged with illegal entry. It was during this investigation that other suspects were identified.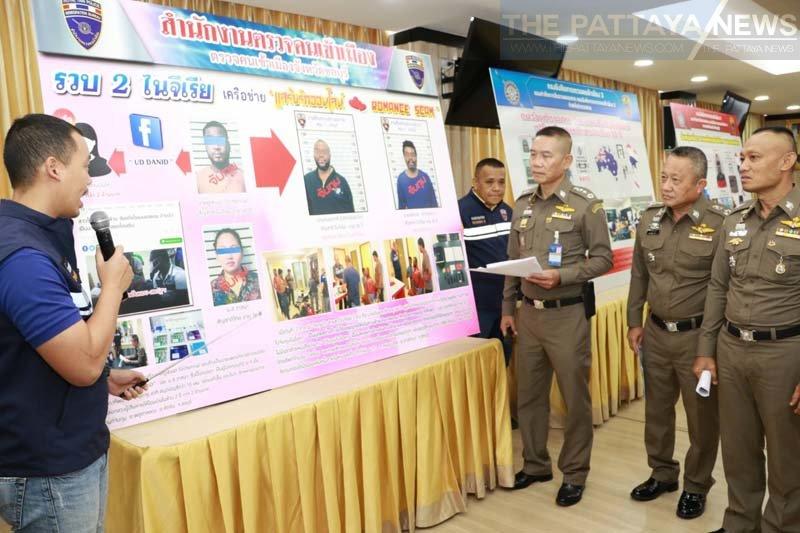 Investigations continued to round up the rest of the gang and on October 2nd at a condominium in Pattaya, two more Nigerians were taken into custody.
Thirty-six-year-old Onyekachi was found in possession of a passport but was on overstay of more than four years – 1,477 days.
Ifeanyi, 35, had no passport at all and is to be charged with illegal entry. It was unclear how long he had been in the country.
Seven phones, three computer notebooks, and a checkbook were taken into evidence.
The pair will be prosecuted then deported.