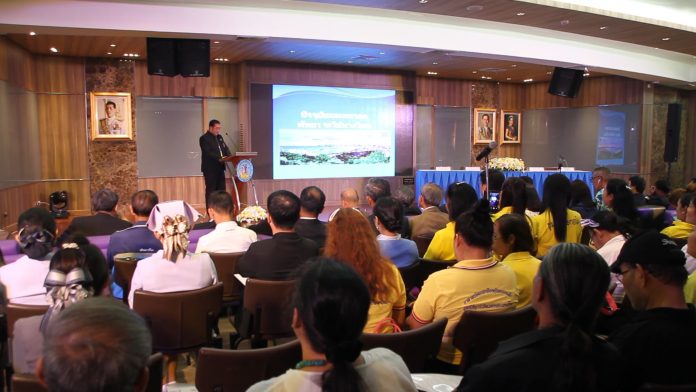 Pattaya-
September 25th was the one year anniversary for the Mayor of Pattaya and he addressed movers and shakers and the city council, as well as the press, in Pattaya yesterday in a detailed state of Pattaya address.
Pattaya city wants to transform itself from a beach destination to Neo Pattaya, a new international business centre, in preparation for the Eastern Economic Corridor (EEC) scheme, in an attempt to diversify its economy away from tourism.
Tourism revenue dominates income for the city, which welcomed 14 million visitors last year, contributing 239 billion baht, or over 70% of total income for Pattaya.
"We plan to reduce our income from tourism to 60% of the total in five years, gaining revenue from other sectors benefiting from the EEC," said Pattaya mayor Sonthaya Khunpluem yesterday at the address.
Pattaya is in many regards quite similar to Miami in the United States, such as size and number of tourist arrivals, he said.
However, Pattaya is far from Miami as an economic and financial hub, Mr Sonthaya said at a seminar in the beachside destination.
To upgrade Pattaya as an economic hub, he said the city must exploit opportunities from developing various industries in the EEC.
From January 2018 to June 2019, the Board of Investment granted investment privileges for projects in the three EEC provinces — Chachoengsao, Rayong and Chon Buri — worth 800 billion baht, of which 645 billion stem from investments in Chon Buri.
To prepare Pattaya to capitalise on the greater opportunity, the city has been working with the Public Works and Town and Country Planning Department to improve water management, which is among the most urgent tasks. The current water drainage project is set to be completed in February of 2020.
The first phase of a flood management project is underway, with a budget of 9.5 billion baht.
The wastewater treatment system needs an upgrade to handle 130,000 cubic metres per day, up from the current 67,000 cu m. The Mayor mentioned already in the early phase of the drainage work flooded roads take less then thirty minutes to drain, vs. several hours previously.
Mr Sonthaya said the city is holding discussions with relevant agencies to enable any EEC-related infrastructure in Pattaya to benefit both the economic and tourism sectors in the city as well as Chon Buri province.
Pattaya is one of the five Mice (meetings, incentives, conventions and exhibitions) cities promoted by the agency alongside Chiang Mai, Phuket, Khon Kaen and Bangkok due to its potential as an economic hub with its strategic location for Mice business.
Chiruit Isarangkun Na Ayuthaya, president of the Thailand Convention and Exhibition Bureau, said the EEC should bring more Mice travellers to Pattaya, especially for meetings and exhibitions.
Next year, the agency plans to bid for more music and cultural events to organise in the area.
The Mayor also stated that Pattaya is now ranked third in Thailand for education quality in it's schools, commented on improved sanitation and waste management, spoke about the positive reaction to the expanded beach and sand and stated the large dump of waste on Koh Larn was being dealt with.
The Mayor also spoke about future plans for the area, including an expansion of the local airport to eventually be the second busiest airport in Thailand, U-tapeo, plans for a cruise ship docking facility near Bali Hai, early plans for a tram system and a high speed train. Of course, many of these projects are years away but the current groundwork is being laid for these projects to succeed.
Source: Bangkok Post with additional material from us.