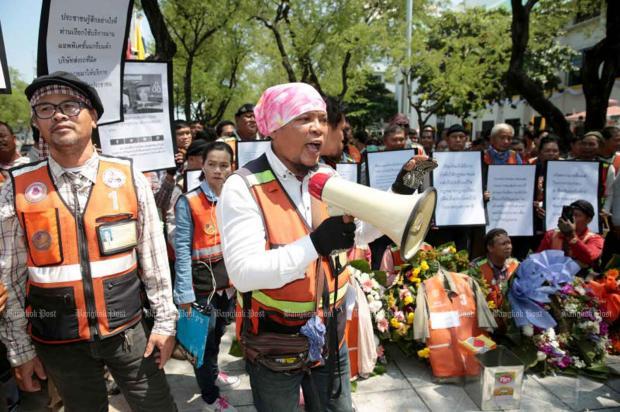 Dozens of taxi motorcyclists rallied in front of the Transport Ministry on Thursday morning against the planned legalisation of app-based ride-hailing motorcycle services, as officials stood firm on the plan.
Leading the demonstrators, Chalerm Changthongmadan said they were legally registered with the Land Transport Department, and the ministry's plan to legalise app-based Grab services would cause their incomes to fall.
"We are in trouble. Our income drops. Grab members come into conflict with us as they compete for passengers. We have repeatedly complained to the various agencies, but the problem is not solved," he said.
To the contrary, there was a policy to legalise the app-based service in favour of foreign businesses, Mr Chalerm said. He complained that taxi motorcyclists had no say in the policy.
His group, numbering about 50, planned to move their rally to outside the Tourism and Sports Ministry in the afternoon.
Transport deputy secretary Chirute Visalachitra said a new ministerial regulation on app-based car-hailing services could take effect by next March, but legalisation of the motorcycle services would require an amendment to the vehicle act.
The law required ride-hailing motorcycles to be registered as public vehicles, but app-based services would involve the use of private motorcycles, Mr Chirute said.
Source: Bangkok Post