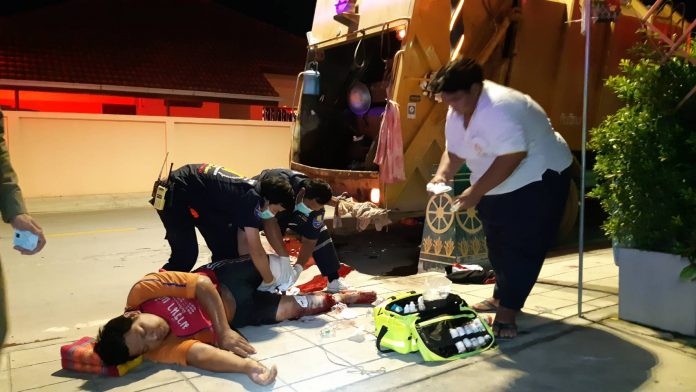 Man loses leg after a car crashes into garbage truck in Bang Lamung
Bang Lamung –
A local garbage man has lost his leg after a car crashed into his garbage truck in Bang Lamung this morning.
Maj Teetat Tarunjan of the Nongprue Police was notified of the accident at 5:30AM on Pattanakarn Road in Nongprue.
Police, The Pattaya News and emergency responders arrived at the scene to find the damaged garbage truck on the road.
Nearby, they found 36 year old Mr. Tanong Sangthong who had sustained serious injuries. His left leg was found under the garbage truck, amputated during the accident. He was rushed to a local hospital, however is expected to recover and was conscious and relatively calm during the incident.
A damaged car was found nearby. The driver 29 year old Ms. Penphon Pratee was waiting for police at the scene.
The garbage truck driver 42 year old man Manot Thongkam said he was taking garbage in a bin to the truck at the time of the accident. Mr. Tanong was on the back of the truck depositing garbage when the crash happened.
The car which was coming from another lane had collided with the back of the truck after spinning out of control. Mr Tanong was too late to escape himself from the collision.
Police are continuing their investigation for further legal action. The statement of the driver of the car was not released to the media and she was detained by police for possible legal action.