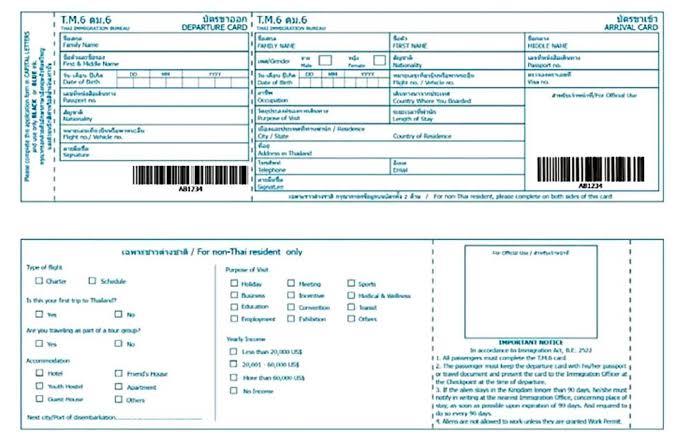 Thailand is to scrap the TM6 arrival and departure card for foreign tourists.
Speaking at an event in Bangkok on Tuesday evening, Dr Kobsak Pootrakool from the Prime Minister's Office said the TM6 card is set to be phased out, while a new app will be launched for TM30 reporting, according to Khaosod English.
In 2017, it was announced that Thai nationals would no longer need to complete the TM6 form and that only foreigners would be required to fill in the form.
But now the TM6 form is to be scrapped altogether as the Immigration Bureau is running out of places to store all the paperwork, Khaosod reported.
Currently all the TM6 forms are stored in two huge warehouses but are seldom looked at after they have are used, so the decision has been taken to make it redundant.
Khaosod English also reported that a new mobile app will be launched to make the process of TM30 reporting much easier.
The news comes after Dr Kobsak revealed last week that he was due to hold a meeting to discuss the controversial TM30 reporting.
Dr Kobsak also revealed that foreigners will also able to do 90 day reporting via a soon to be launched app.
Read the report by Khaosod English here.
Source: Thaivisa, Khaosod English