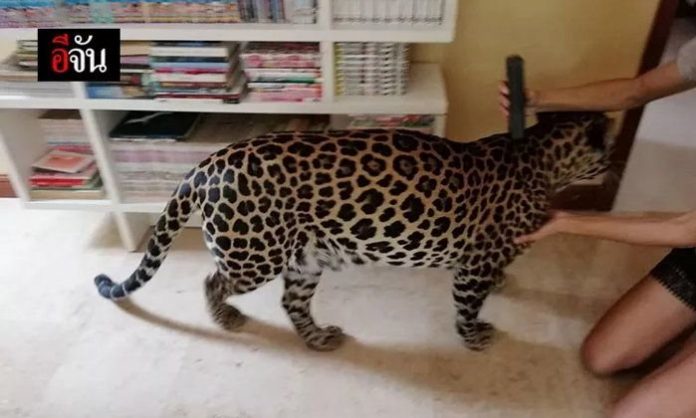 A foreigner and his Thai wife has been condemned online by leading wildlife activists and social media for keeping a leopard as a pet at a rented house near Pattaya.
A leading animal activist living in Thailand said he is shocked and baffled that the Thai authorities have allowed the man and his Thai wife to keep the leopard at their house in Na Jomtien, Sattahip.
Sanook reported that "Wild Hawk" special forces, an animal conservation and protection agency, went to a two story house in Na Jomtien on Monday afternoon this week following complaints from neighbours.
They found a four year old fully grown leopard. The house has a cement fence surrounding the property and is topped with a net to the height of 3 meters, said Sanook.
Nitaya said she and her foreign husband had raised "Typhoon" since he was a cub.
She showed documentation to show that the couple had legally bought 3 leopards who had all died. They had two offspring, Typhoon and a female called Fah Sai who was sick and in Chiang Mai.
They moved from Chiang Mai to the rented house in Sattahip four or five days ago.
A legal case brought in November of last year in Chiang Mai decided that they could keep the pets. However, Nitaya and her husband have yet to register the animals with an animal registry office in Sri Racha.
They have been ordered to make improvements to the house so that the leopard can't get out and attack neighbors.
Social media has been largely negative about the pet being kept in the area.
Source: Sanook, Thai visa