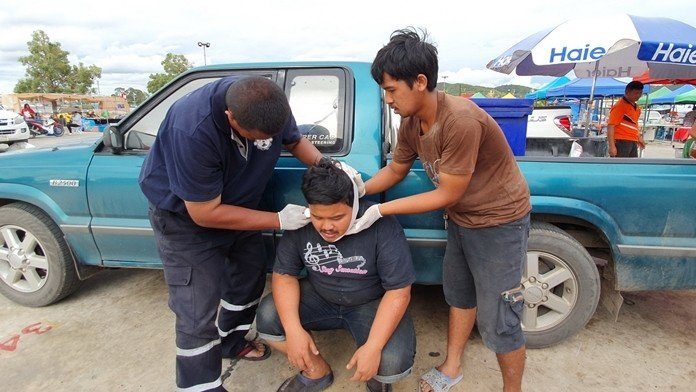 SATTAHIP:–Pol. Capt. Sinsamuth Boon Tatsana, Sub-inspector of Sattahip Police Station Police rushed to the 700-rai flea market in Sattahip Aug 25, after receiving a report that a man had been stabbed. At the scene of the crime, they found rescue workers tending to a bloodied Yannawuth Prasomwangsub, 28, a fried chicken vendor with a severe head wound.
On questioning, the hapless vendor told police he and his wife are fried chicken vendors from Klang District in Rayong and they drive to Sattahip to sell their chicken at the flea market. With them on this trip was a 16-year old employee Nat who had come to work for them just a week ago.
While they were setting up shop, Yannawuth asked the trouble-making employee as to the whereabouts of their cooking utensils. Nat took offense at being queried, feeling insulted that he was thought to be a thief. He then proceeded to stab Yannawuth in the head with a knife used for cooking.
The report did not mention the fate of Nat.