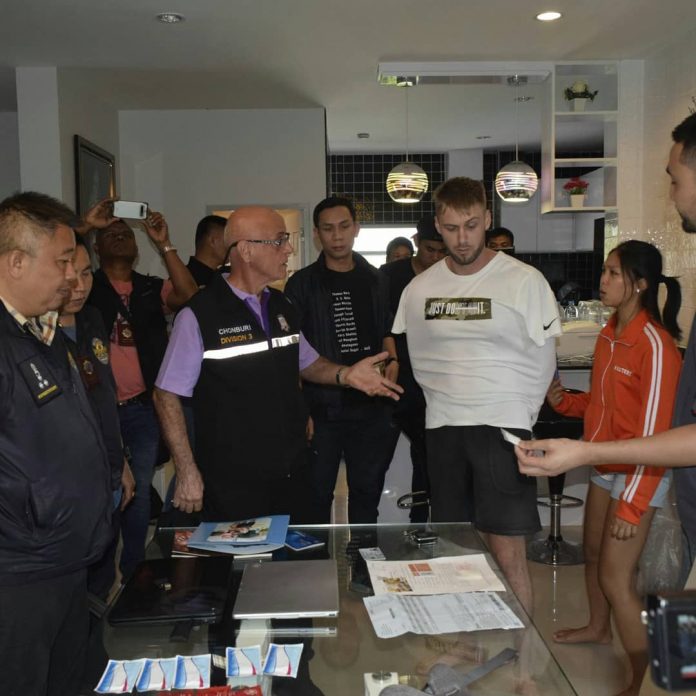 Wanted English man arrested in NorthEast Thailand with an overstay visa and suspected connections to a Pattaya suspect according to Banglamung Police
Maha Sarakam –
A wanted English man has been arrested in Maha Sarakam (Northeast of Thailand) for overstaying and for suspected connections to Luke Michael Timmins, who was arrested in Pattaya as a drug suspect according to Banglamung Police.
Two different teams of officers arrested 29 year old English national Daniel Hilton Wood in Maha Sarakam while at the same time arresting Luke Michael Timmins in Pattaya.
He had stayed in Pattaya but was allegedly on a temple trip with his Thai wife in Maha Sarakam. Officers did not find any illegal items with Daniel but he is overstaying in Thailand.
At this stage, he is facing charges of overstay in the kingdom. Police say he was on overstay since October of 2016.
Daniel had allegedly escaped an arrest warrant for illegal possession of drugs in England. He had entered Thailand and married a Thai woman according to police.
Police officers involved in the double raid allege that Daniel and Luke are close friends.
Daniel and Luke are connected with Adrian Matthews or Adrian LeCa who was a president of the Pattaya Bandidos MC gang according to police.
Two years ago, Adrian was arrested by New Zealand Custom and Excise officers. He was found with crystal methamphetamine (Ya ice) valued at 17 million US dollars .