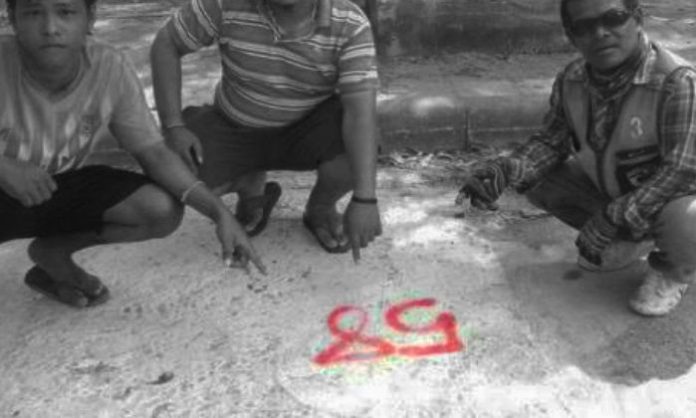 The results of the government national lottery came out yesterday, and as many Thai's swore would happen, an eerie number came up that was present at the death scene of a foreign Big Biker and a young Thai bar girl in Ban Chang on June 23, 2019.
Winning large sums for many people was the two-digit number "58".
Following the death of a North American and a Thai bar girl in Ban Chang on July 23, 2019, in a big bike accident, Thaivisa ran a story that said locals were convinced that an unrequited spirit called "Tua Tai Tua Then" was at work. (Credit Thai Visa)
The accident that claimed the life of Joseph, 49 and Nadda, 19, occurred at the same spot as the death of another biker sometime earlier.
In the accident on the 23rd, the bodies of the victims were covering road markings of number 58 and 18, reported Sanook.
The Thais said one or both of the numbers were bound to come up but most foreign posters trashed the whole suggestion of spirits and lottery numbers. They thought it was ghoulish.
One called Thailand "The Hub of Stupidity" and another said that it was "rubbish and sick" to use numbers to play the lottery in this way.
Not all agreed, but now many Thais have won with the number 58.
Sanook said that the hairs on the back of Thai necks stood up when the state lottery numbers were announced in the August 1st drawing.
Thai's on Social Media used the event to say that foreigners that disbelieved that the spirit was at work were now proven wrong.