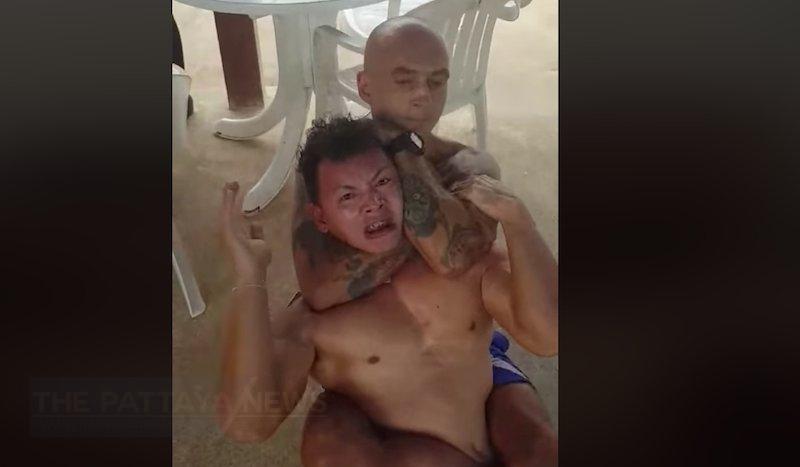 Jomtien-
On Wednesday afternoon, July 24th, 2019, an alleged thief who was accused of breaking open multiple lockers over a period of two months and stealing cash from customers at the Jomtien Sauna was caught by the owner of the sauna, Mr. Andrea Sinyorini.
Mr. Sinyorini, who is a well known local business owner and also well known for being versed in Brazillian jujitsu and who trains every single day, spoke directly to The Pattaya news this afternoon, July 25th, 2019 about the incident.
The incident went viral on Mr. Sinyorini's personal facebook page as he captured the moment, which you can find below when he took the alleged thief down until police arrived to arrest him.
https://web.facebook.com/andrea.jomtiensauna/videos/2596628300573647/?t=0
Here is, from Mr. Sinyorini's interview with us, what happened. These are his own words:
This individual, who has not been named during the ongoing police investigation, had been stealing from customers of my sauna for about two months. He is a Thai national and a local resident.
I first started getting complaints from customers that they believed money was missing from their wallets. It was always roughly a third of what was in the wallet, never the entire amount, probably in an attempt to not be noticed. However, some of my customers did notice and started coming to me.
At first, some of our customers accused our staff and since I didn't know what was going on at that point I began to investigate further.
I recognized patterns and the fact that the thefts were happening every day between about 3 PM and 5 PM. It was always only a third of the money in customers wallets. The locks were being open with a stick, which is some sort of lockpicking device. The thief was professional and managed to open the lockers and take the cash quickly, then returning the wallet and locker to its original state so it didn't look disturbed.
I started losing sleep at night over this. Anyone who knows me knows that my business is very important to me and I am there every single day for the entire day, except when I am training.
I began to track customer patterns and behaviors, along with body language, every day between the hours of 3 PM and 5 PM which is when the crimes always happened.
This led to me recognizing this person who was a daily customer at the spa but had very suspicious body language. After a continued period of observation, we became 100% sure this was the individual and that he was observed breaking into lockers.
The day of the video he broke into five lockers and stole about 15,000 baht. I saw it happen. I called the police but they said they were not ready to make the arrest and wanted some time to investigate. I told them that wasn't going to happen and they could arrest me for assault instead as I was going to take the man down and hold them for police.
I encountered the man and I could tell by his body language he knew he was caught and was either going to flee or attempt to do something stupid. So, I took him down with a body triangle and put a choke on him. I didn't let him pass out as I wanted him to feel what it is like to be dominated, I wanted him to feel the fear and pain he put so many of my customers through over the last few months.
Police responded to the call and arrested the man. When he was handcuffed, I gave him some water. I don't kick a man when he is down. He apologized to me and I told him that rather then stealing if he needs money or a job he can come to me, not be a criminal.
He is allegedly out (of jail) right now after the incident but I am happy with how it went down and believe he was taught a valuable lesson."
End of comments.
Andrea let The Pattaya News know that he is always willing to meet new customers and can be found in person at his sauna in Jomtien every single day.