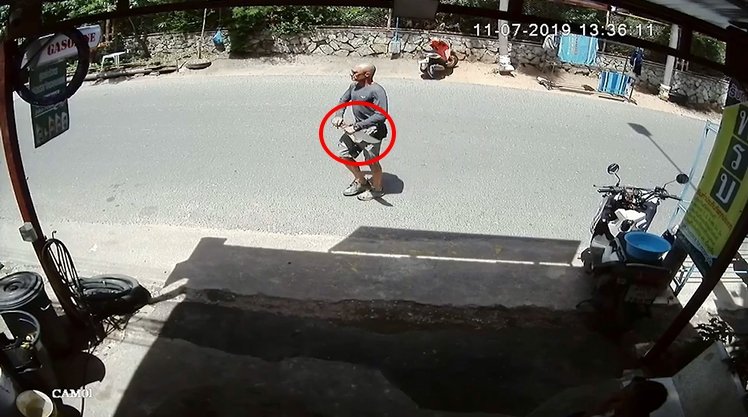 Pattaya-
A foreign man reportedly from Canada has been involved with a messy neighborhood dispute with his Thai neighbors in Pattaya which has now gone viral on Thai press and is a headline article on Thairath, 77kaoded, Channel 7 News and other Thai language websites. We have withheld his name at this time as the situation is ongoing.
The dispute, which is allegedly over parking of a motorbike, alleged seepage of water from a laundry shop next door, issues with a motorbike stand across the street, issues with a motorbike repair shop and trash left in front of his property, has been ongoing for at least a week and escalated late last week in the series of videos that were released by his neighbors to the press and police to show the mans threatening behavior.
The videos appear to show the man with a machete threatening his neighbors and a police officer called to the scene. At one point, it appears the man, who is standing on his roof, threatens to cut the head off of a police officer and threatens to kill his neighbors. He alleges they are poisoning his property and trying to plant drugs and poison as well in his trash.
Another video shows the man in a confrontation with several men in the street.
One neighbor also posted a series of videos of the man's behavior. They say they fear for their lives and believe the man may harm them and their families.
https://web.facebook.com/jamjureejinuntuya/videos/870461510001490/?t=1
According to neighbors and law enforcement, the situation is ongoing and officials are hoping to resolve the situation peacefully, however, reportedly the foreign man is not being cooperative at this time.
Thairath has reported and posted footage of law enforcement and city officials attempting to resolve the situation and calm the man down, however, he reportedly locked himself in his house and did not allow others to speak, continually cutting them off (See 8 minutes and about 15 seconds.)
Video Credit Thai Rath.