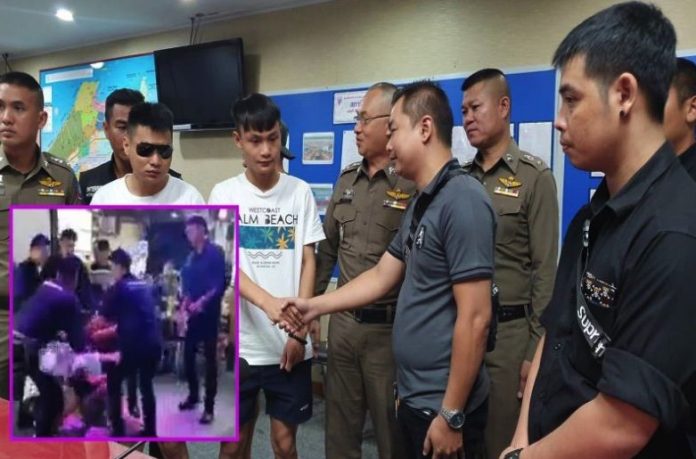 Pattaya-
As we posted on our social media feeds yesterday, two young Chinese Tourists got into a drunken brawl with four security from a local nightclub on Walking Street early Sunday Morning. The brawl was filmed by an American tourist who proceeded to share the video on social media, where it went viral and was picked up by several media outlets, including us.
Eventually, the film ended up being seen by the Chief of Pattaya police who called all parties involved in the incident to a meeting at the police station. The two Chinese tourists, Mr. Su Wee Da, 22 and Loo Dong, 20, were each fined 500 baht for being drunk and disorderly.
The four bouncers were fined 500 baht each for assault.
The police had been aware of the incident prior to the video, as shortly after the video ended the Chinese men went to the tourist police booth at the end of Walking Street to report the incident, however, were so intoxicated and there was a language barrier that officials were not able to get the whole story until the morning and review of the video.
Both parties apologized to each other and management of the disco promised that retraining would take place to avoid any future incidents. They both declined to press charges against the other party and considered the matter settled.