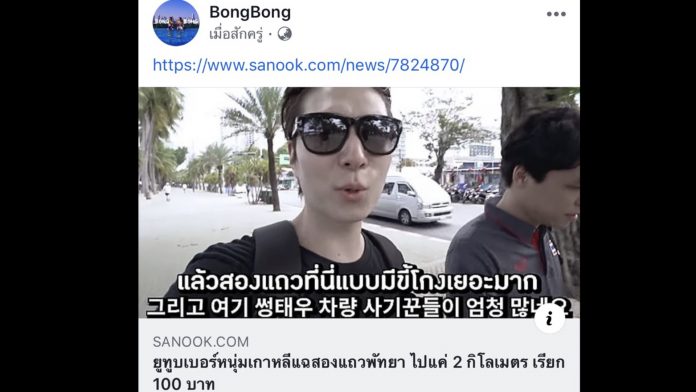 Pattaya-
Yesterday, July 5th, 2019, a video went viral on Thai social media of Korean Youtube "stars" BongBong claiming that on a regular baht bus trip from Second Road to Jomtien Beach he and his friends were charged 100 baht per person vs. the standard 10 baht fare. He complained about the incident on video and it quickly went viral on Thai social media.
He stated in the video that he did not know the standard price until later when he found out he was, in his words, ripped off and made the complaint video.
Pattaya City officials have seen the video and went to the bus stop yesterday located on Second Road near Walking Street to demand answers.
They spoke to Mr. Thawat Bunnag, who is President of the Pattaya Baht Bus Cooperative. He stated that hundreds of cases like this have been reported and prosecuted over the years and that the video did not contain any information that could help them locate the offending driver for accountability. He stated that all baht busses have the number of the bus and driver identification in the back of the bus and that any customer who believes they have had an issue should take a photo of that information for a complaint.
He said the drivers have been told what the standard price is for a baht bus ride and that they should not charge any higher as it hurts tourism and the image of Pattaya.
Pattaya City officials have got more information from BongBong and are reviewing CCTV at the time they stated they took the bus to obtain the identification of the driver and vehicle used.