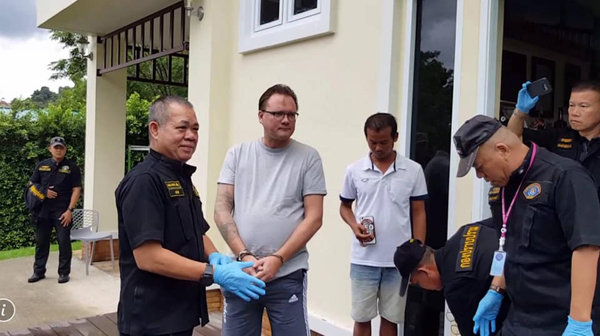 Koh Chang-
Police in Thailand have arrested a Swedish man wanted in connection with a multi-million dollar fraud.
Roger Nils-Jonas Karlsson, 45, was arrested on June 18 at an address on Koh Chang, where he has lived with his Thai wife for eight years.
Police officers seized a number of electronic devices that are believed to have been used for fraudulent activities.
Thai police were acting on information from the authorities in the United States via Interpol, who say Karlsson defrauded more than 3,500 victims of more than $11 million. An Interpol Red alert had been issued for Karlsson.
Manager Online reported that Karlsson told officers he set up a legitimate cryptocurrency investment website but was forced to close the site when his business started to experience huge losses.
However, according to documents released by the US Department of Justice Karlsson used websites to communicate false representations to victims in a scheme to defraud potential investors.
One website, www.easternmetalsecurities.com, allegedly was registered to a fictitious person and advertised shares in a product called a "Pre Funded Reversed Pension Plan" (PFRPP).
Karlsson allegedly used the website to invite potential investors to purchase shares of the plan for $98 per share in exchange for an eventual payout of 1.15 kilograms of gold per share, even though as of January 2, 2019, 1.15 kilograms of gold was worth more than $45,000.
Karlsson also allegedly advised investors that, in the unlikely event that the gold payout did not happen, he guaranteed to them 97% of the amount they invested. According to the complaint, the government found no evidence of any accounts held by Karlsson that would allow him to pay off the investors.
Instead, the complaint alleges, the funds provided by victims were transferred to Karlsson's personal bank accounts and now appear to be tied up in Real estate in Thailand.
Karlsson also directed his victims to make investments using virtual currencies, such as Bitcoin. He allegedly defrauded no less than 3,575 victims of more than $11 million.
Karlsson will now be extradited back to the USA where he faces up to 40 years in jail and fines in excess of $750,000.
The full text of the complaint by the US government can be found here:
https://www.justice.gov/opa/press-release/file/1175506/download?fbclid=IwAR0MB_lfkrZVupJy4–hmESPuP3TSpSpU-27CqdWmpgT-Us4XgUDOOfkFF8