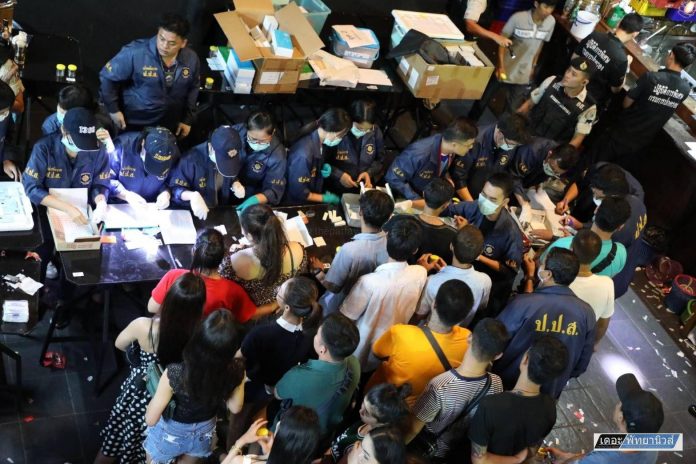 Pattaya-
At 4:00 AM this morning local and regional police, Army, Immigration, tourist police, and city officials conducted simultaneous raids on two popular local nightclubs, the Brazil Club located off of South Pattaya Road and The 90's pub, located on Soi Bongkot.
Officials stated the raids were in response to complaints from locals about both clubs being open until dawn daily and suspicion of underage patrons and drug use. It turns out that both suspicions were correct.
Led by Mr. Prachan Thipsiri, the Director of the Investigation and Crime Suppression Division, dozens of officers raided the two clubs, turning on the lights and blocking the exits as panic ensued, especially at the Brazil Club. Over three hundred people were present at the Brazil Club during the time of the raid. It took officials several minutes to restore order as they got onto the house microphones.
All patrons were drug tested at each venue.
An astonishing 142 people tested positive for drugs at the Brazil Club. Additionally, 58 people were found not to have ID cards per Thai law. Four patrons were found to be under the age of 18.
At the 90's club, a total of 13 people were found to test positive for drugs and one underage patron was found.
Officials also found lying around the club which seemed to be dumped by panicked club goers the following: A 9MM pistol loaded with 16 rounds of ammunition, 1 pocket knife, 62 packets of crystal methamphetamine and a large amount of equipment used for drug usage. Officials also found several shisha pipes which are against Thai law.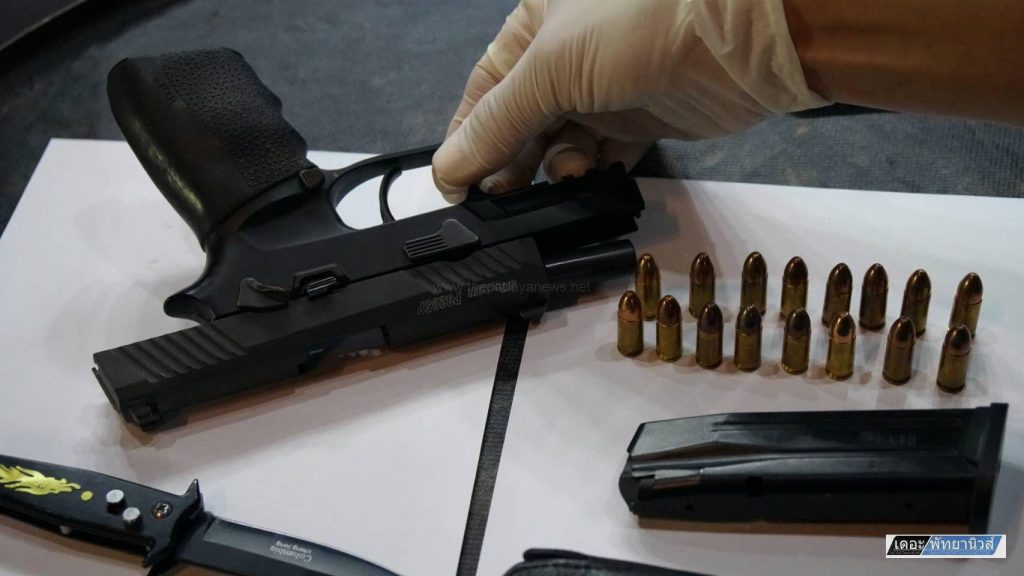 The manager of the Brazil Club, Mr. Thaksin phusee, 41 years old, was also arrested. Details were not given on the management and ownership of the 90s club, which has previously been raided and has prior issues with the law.
All patrons who tested positive for drugs were detained and arrested which caused several of them, who appeared to be intoxicated and high on drugs at the time, to not comply with police orders and had to be forcefully taken away, as can be seen on the video.
Both venues will be charged with the following:
-Allowing in patrons under the age of 20
-Staying open past the licensed time of 3:00 AM
-Not having a proper license
-Allowing drug usage on premises
-Unauthorized service locations
-promotion of alcohol against Thai laws
-Sales of Shisha against Thai law
-Distributing liquor without a license
-Sales of liquor past the proper time
-Several other license violations.
Mr. Thipsiri stated that both venues will at his order be proposed to the Governor of Banglamung to have a five-year closure and 500,000 baht fines.