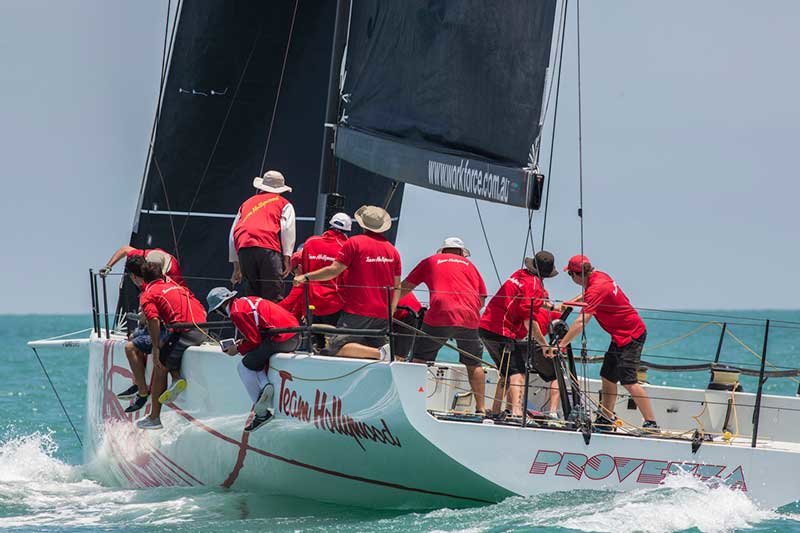 PATTAYA, Thailand – The 15th Top of the Gulf Regatta presented by Ocean Marina got off to a good start with a solid 10 knots on the first day. This gave the Race Officer confidence to set the fleet on a long distance race. But first up was a windward/leeward for all the keelboat classes.
It was a lonely start for Team Hollywood (AUS) in IRC Racing 1 with fellow TP52, THA72, not making the start of the first race. Not to be distracted from the task ahead, Ray Roberts and crew zeroed in on the second race and get the better of THA72 over distance, finishing the day with two bullets and an early lead in the standings.
Close battles in IRC Racing 2 saw the Australian team on the Adams 10, Tenacious (ex Ichi Ban) win the long distance race and finish the day with a 2,1 scoreline, tied on points with the Beneteau First 44.7 Fujin (ex Ichi Ban) who placed 1,2. Lawana (THA) and Ink Zone (AUS) traded places in third and fourth, and both sit on seven points at the end of the first day.
After a third-place finish in the first race of IRC Racing 3's series, the Japanese crew on Team Spray bounced back to place first in the second race and sit top of the standings. A three-way tie sees MoonShadow2 (UK) in second and SailQuest Hi-Jinks (USA) in third.
In what is often the most competitive class of the regatta, for the one-design Platus every race counts. One slip early on could cost a team a place on the podium and past winner Easy Tiger V (AUS) know this well. They hit the ground running today with a 1,2,1 in their three windward/leewards. A good start to their campaign, but as Chris Way and his crew know only too well there is a long way to go. Thai entries Pine Pacific and YRAT rounded out the top three today, placing second and third overall.
Edenko (FRA) got the better of the multihulls today with a win in their single, long distance race of the day. Having competed in the Top of the Gulf Regatta for the first time last year, and placing second overall, Dominique Demachy and his crew are looking to go one better this year. However, the ever-green Sonic (THA) will be looking to make it as difficult as possible and defend their title, despite a slow start today finishing third overall behind BladeRunner IX (UK) in second.
The dinghy and Optimist fleets will join the fray tomorrow and compete over four day series, and for the first time, Para Sailing will be part of the regatta with 14 Para Sailors competing in seven of the new and exciting double-handed S\V14s.
Full results can be seen at https://topofthegulfregatta.com/results-page.
For more information about the 2019 Top of the Gulf Regatta Presented by Ocean Marina:
Web: www.topofthegulfregatta.com.
Facebook: www.facebook.com/topofthegulfregatta
Twitter: www.twitter.com/togregatta
YouTube: www.youtube.com/TOGRegatta