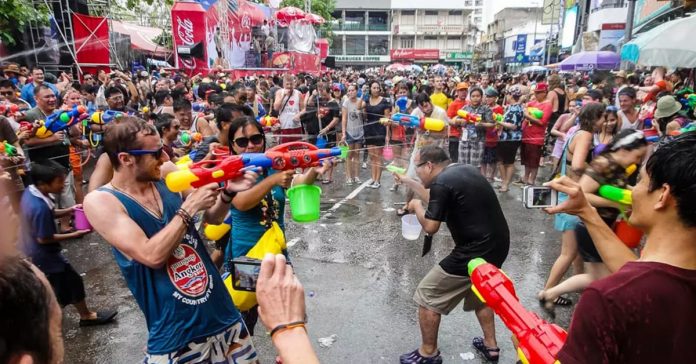 PATTAYA:–
City Officials stated that this year they will be strictly enforcing water play end times of 6:00 pm this year throughout the city. They reminded business owners during a meeting this week that water barrels should be removed at this time.
They reminded tourists and expats that powder/clay was not permitted and would also be banned during the festival in the city.
They also stated that high pressure water guns/pvc pipe cannons are prohibited.
DUI Check points will be set up throughout the city and drivers will be randomly inspected for driving under the influence. Despite a push by some Government officials, there is no ban on booze during the festival.
City police will be patrolling the city and all hands on deck will be in effect for the water festival dates, which are the 12th to the 19th in the city.
Officials stated that riding in the back of trucks IS allowed, however, drinking booze in the back of trucks is prohibited and they will be stopping and inspecting trucks during the festival for intoxicated passengers.
They also stated they will be on the lookout for groups of teenagers racing motorbikes at high speed during the festival.
Finally, they stated that Songkran is a traditional festival and bikinis, wet t-shirt contests, showing skin or flashing, etc, were against Thai traditions and not allowed. They reminded tourists to dress appropriatly.
There will be several rescue/medical assistance centers set up on Beach Road during the festival.
Beach Road will be closed from end to end from 10:00 AM to 7:00 pm on the 19th for the final day of the festival.