Thailand's top cop Lt Surachate Hakparn  known as Big Joke – has turned his attention to people selling cigarettes and vaping fluid.
Though legal in many countries Thailand has a strict attitude towards vaping and it is against Thai law.
Siam Rath reported that Lt-Gen Surachate was following orders from three of the biggest voices in the land: PM Prayuth Chan-Ocha, DMP Prawit Wongsuwan and RTP chief Chakthip Chaijinda.
An anti smoking group was also demanding action.
Surachate said that in the latest action against the scourge of e-cigarettes multiple people had been arrested on warrants. One remains at large.
Distributors were selling merchandise online through Facebook and Line, he said, adding that night markets were also places where e-cigarettes and vaping fluid was on sale. Police were raiding and inspecting night markets for the merchandise
Since a crackdown was started 30 shops and 23 suspects have been targeted.
A large vinyl sign featuring Surachate mentioned the Klong Tom market and night markets. Thirteen distributors were pictured with their eyes blacked out on the sign indicating they were wanted on warrants.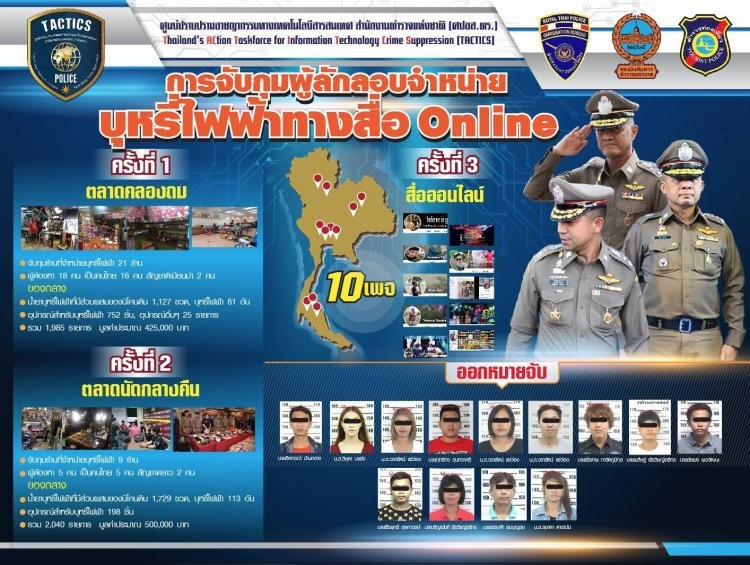 The latest arrests were made on March 22nd, last Friday.
People selling e-cigarettes were described a "khon rai" (bad people) in the Siam Rath story.
Thai officials said they will also continue to enforce vaping with tourists and locals alike and warned, once again, all tourists to the Kingdom that vaping is strictly against Thai law and penalities are very high.