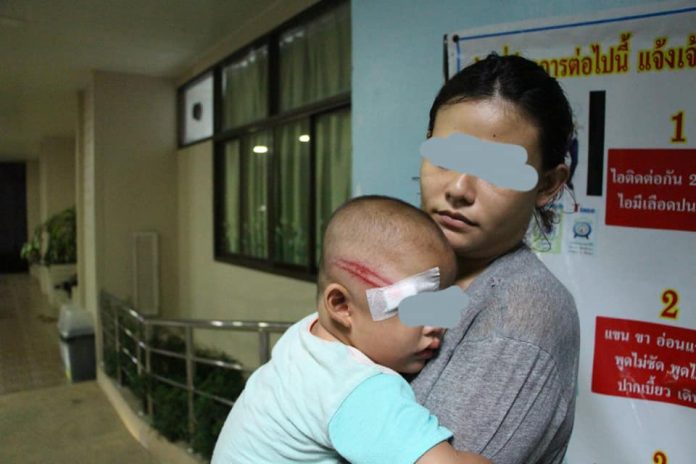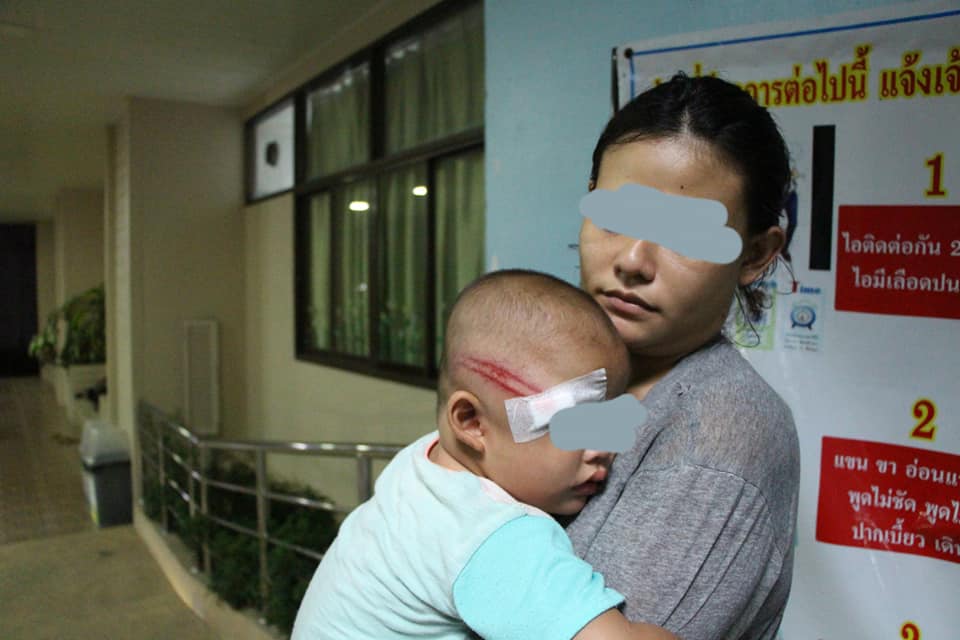 Pattaya-
A mother has claimed that her two year old son was knocked unconscious by a police volunteer wielding a truncheon last night.
The parents of the child were going out to eat last evening in Soi Khao Talo, Pattaya, when they saw a police checkpoint and doubled back on their motorcycle to avoid a fine. They originally stated that it was due to not having a helmet, however, more information has come out on the husband having a drug problem.
Kanya Tomklang, 25, said that a man dressed in black jumped out of the shadows and attacked them hitting her son Sila Ninkham or "Sam" aged just two.
She said that the man was still not satisfied with what he had done – he raised his baton to strike again as the husband and father kicked out to prevent further injury.
The family managed to get away.
They rushed to a clinic but finding it closed made their way to Bang Lamung Hospital where the child was given three stitches to a serious head wound.
As reporters spoke to the mother the child began vomiting and was transferred to another hospital for more urgent treatment.
The mother had said: "We just wanted to avoid a fine – is it that serious that it warrants this?"
This afternoon, the father of the child (Pictured) was summoned to the police station to give his side of the story. He was tested for drugs and admitted to using meth and that being why they tried to avoid the checkpoint. He said, however, that the injuries to the baby were unacceptable, but seemed to admit that he may have struck earlier to the volunteer then the story was first reported.
Police officials state that the Police Volunteer will give his side of the story and interview this evening. We will have more later on this developing story. Social Media on the Thai version of this story has erupted in anger, but Officials cautioned that there was more to the story and to allow the volunteer to tell his side of the story.
The child is still in the hospital in serious condition as of press time.