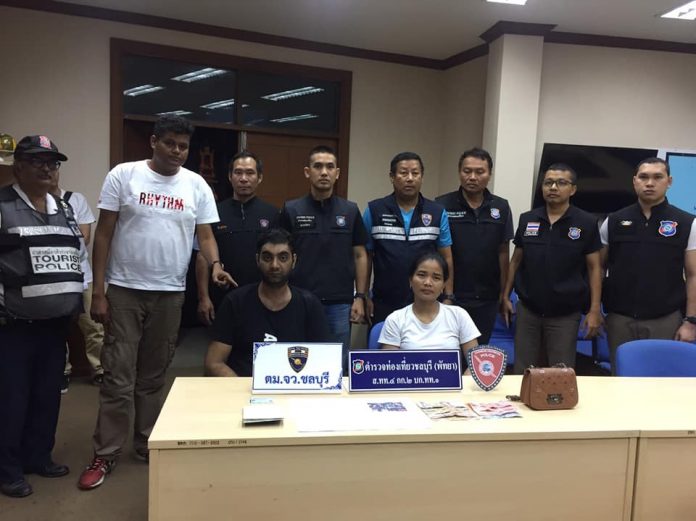 Walking Street-
An Indian National on a 724-day overstay befriended another Indian on Walking Street, drank up a 5,350 baht tab and then fled making the other man pay.
An Indian National who was found to be on a 724 day overstay Mr. Maninder Singh, 26, and his 32-year-old girlfriend, Malika Throngream, 32, met a fellow Indian tourist from the same region, Mr. Sahu Anupam, 31, last evening around Midnight and decided to go out for a night on the town. Mr. Anupam thought he had met a new friend but it turned out Mr. Singh had other thoughts in mind.
However, the night quickly went South when the three went to a popular bar on Walking Street. Mr. Singh told Mr. Anupam that he knew the owner of the bar, which he did not, and that the owner would take care of them and give them a discount.
They had separate bins but Mr. Singh and his girlfriend ran up an impressive 5,350 baht bar tab in about an hour. When it came time to pay the bill Mr. Singh and his girlfriend stated they were going to talk to his manager friend and get them a discount as Mr. Anupam was so impressed with his new friend he offered to pay the bills, as Mr. Singh allegedly said he would get the bill at the next venue.
Mr. Anupam gave Mr. Singh 6000 baht to give to the alleged manager friend to pay the bill.
However, instead of going to talk to a manager friend, both Mr. Singh and his girlfriend fled the bar with the 6000 baht claiming they were going to the restroom, leaving poor Mr. Anupam to foot the bill and short of 6000 baht.
Luckily, Mr. Anupam refused to be a victim and reported the incident to the tourist police. Quick work of CCTV and tourist police located the couple brazenly eating in a restaurant not far from the scene of the crime.
Mr. Singh and his girlfriend were arrested and charged. Mr. Singh will be deported after facing the charges for the drink and dash crime. The majority of Mr. Anupam's money was recovered.
Mr. Singh did not respond to any requests for comment. Mr. Anupam stated that he was very impressed with the work of the Pattaya Police and that he would be more cautious trusting strangers in the future.