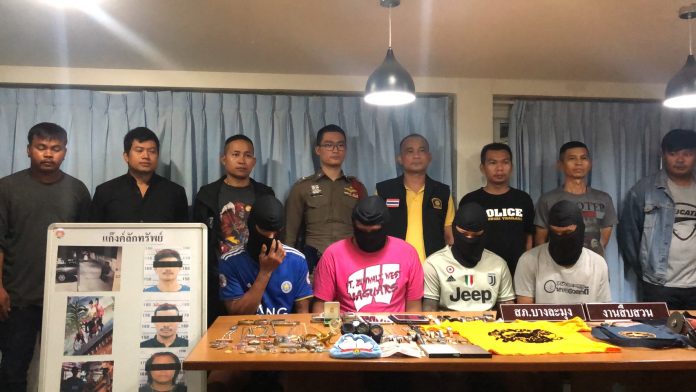 Banglamung-
At 9:00 AM this morning Banglamung District Police led by Lt. Col. Chittip Parapuntakul, Lt. Col. Nopadol Rattanapongkiat, , Lt. Col. Kanchit Thiancham and Lt. Gen. Prayoon Thapthidhon announced the arrest of five Thai men who they state are an organized gang of house burglars operating in the Pattaya and Banglamung area.
The Thai men have been named as Mr. Wirat (or Rat) Pradit, 25 years old, Mr. Woraphong (or Nut), Phatai, 23 years old, Mr. Anon (or Mee) Charoenplup, 27 years old , Mr. Khum, 27 years old and Mr. Kiattisak (or F.) Ritthep, 23 years old.
The gang of thieves targeted homes where the owner was not present and used a steel bar to break into them. Police Officials stated they had been robbing homes in the area for several weeks now and CCTV had helped police to identify the men.
Police displayed a large collection of watches, amulets, electronic equipment and other valuables that the men are accused of stealing from local residences.
Police have not fully identified each victim of the organized gang and are asking area residents that if they believe they were targeted by this gang to call them at Banglamung Police Station, Tel. 038-221-800-1, Fax. 038-221991 24 hours a day.