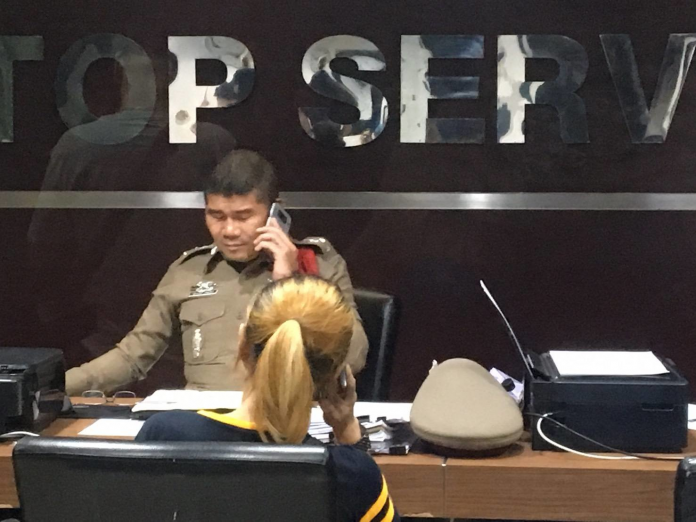 Pattaya-
We first reported on this incident yesterday afternoon, we now have more details on this story. Video Courtesy Ruk Siam News.
A one on one fight broke out in Soi Yen Sabai, Pattaya, after a 45 year old Thai man saw an Omani national talking to his girlfriend in front of the Sara Room hotel.
The Thai man, named as Ratchawee Chomsawek, reportedly confronted his girlfriend Orawan, 34, who then left the scene around 1:30 am. She had told him that the Omani man she was talking to was just an acquaintance but stated to the press that he was drunk and wouldn't listen.
When she returned later she found Ratchawee face down in the street with blood coming from his mouth.
Medics were called and Ratchawee was given CPR before he was taken to Muang Pattaya Hospital where he was pronounced dead.
Medical Officials said he likely died from a broken neck after fighting with the Omani National, who has only been identified as Muneer and is cooperating with Police.
Muneer was arrested in Room 54 on the fifth floor of Sara Room outside which the fight had occurred.
He stated that the Thai man had grabbed him by the neck and pushed him and a fight ensued. He stated that he did not start the fight and was attempting to de-escalate the situation but Mr. Ratchawee would not calm down.
The fight became an all out brawl in the street witnessed by several bystanders.
Pol Lt-Col Natthawat Ploenchit of the Pattaya Police is investigating and hopes that CCTV will clarify what happened.
Mr. Muneer is in custody as of the time of writing and police state he is being fully cooperative in the investigation.